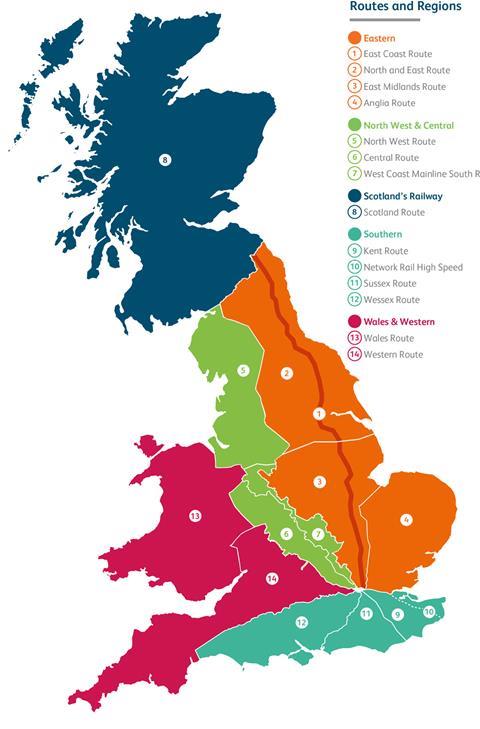 UK: The next phase of Network Rail's devolution strategy came into force on November 11, when responsibility for capital projects was transferred from the former centralised Infrastructure Projects business to the five geographical regions that were established in June to provide support for the 14 routes responsible for day-to day operations.
Accountability for major projects moves to five Capital Delivery directors who each report to their respective regional managing directors. They are Rob Cairns (Eastern), Eoin O'Neill (North West & Central), Kris Kinnear (Scotland), Tim Coucher (Southern – interim) and Stuart Calvert (Wales & Western). Reflecting the fact that many projects in the north of England span the boundary between the Eastern and North West & Central regions, NR has established a dedicated Northern Programmes team under the leadership of Chris Montgomery.
Some other centralised functions have also been transferred to the regions with this stage of the devolution process, which sees the formal establishment of the new Network Services business. This is intended to support the regional teams in six key areas: national operations, security, telecoms, freight, national performance and passenger information during disruption.
Accountability for commercial policy, standards and assurance moves to the existing Route Services unit, which assumes responsibility for all supply chain operations, contracts and procurement behalf of the regions and routes. Other functions have been consolidated under the Chief Financial Officer's directorate.
'Network Rail's drive to be more customer and passenger focused continues', explained Chief Executive Andrew Haines. 'Today sees the shifting of more responsibilities and accountabilities to our devolved routes and regions, so that they are better able to respond to local needs and demands.'
A third phase of devolution is expected to be rolled out in mid-2020, when further teams will transfer into the new structure. All of the structural changes under NR's 'Putting Passengers First' programme are due to be completed by the end of next year.