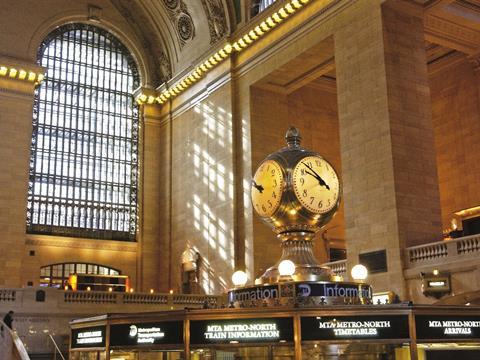 USA: New York's Metropolitan Transportation Authority has agreed to purchase Grand Central Terminal and sections of the Hudson and Harlem commuter rail lines, correcting what it terms a 'historical quirk' of New York infrastructure ownership.
The acquisitions, valued at $35m, were approved at an MTA finance committee meeting in mid-November. MTA's Metro-North Railroad subsidiary is buying the assets from Midtown Trackage Ventures, a private holding company which had acquired them in the early 2000s.
MTA will now own 122 km of the Hudson Line from the buffer stops at GCT to a point 3·5 km north of Poughkeepsie station, where infrastructure ownership passes to CSX Transportation and traffic dispatching to Amtrak.
On the Harlem Line, MTA now owns the section between New York and Dover Plains, augmenting the northernmost 8 km between Dover Plains and Wassaic which it acquired in 1990 when Metro-North commuter rail services were extended.
Currently served by Metro-North commuter services, Grand Central Terminal is one of the world's most well-known stations and one of the most popular visitor attractions in New York City. It was built by the New York Central Railroad and opened on February 2 1913. NYCR had previously built the Hudson and Harlem lines in the 19th century.
NYCR later merged with the Pennsylvania Railroad to create PennCentral Transportation in 1968. PennCentral went into bankruptcy in 1970, leasing the commuter rail assets to MTA in 1972. Ownership of the infrastructure assets then passed to the American Financial Group, followed by American Premier Underwriters. Commuter rail operations meanwhile were transferred to Conrail in 1976, before MTA took over in 1983, establishing Metro-North.
In 1994, MTA signed a 280-year lease with APU, which included an option for purchase in 2019. This long lease term was selected to secure MTA's investment in Grand Central Terminal in the late 1990s, and Metro-North has been paying an annual rent of $2·4m. APU subsequently sold the ownership rights to Midtown Trackage Ventures in the early 2000s.
MTA says that having complete ownership of GCT and the related rail infrastructure gives Metro-North 'unencumbered control and responsibility of its operating environment' for the first time. It will also give MTA Long Island Rail Road 'clear control of the East Side Access station being built beneath Grand Central Terminal'.
Ownership of the Harlem and Hudson lines also opens up the potential for MTA to capture 'the full value of improvements made through transit-oriented development projects and other public-private partnerships'.
'This marks a new chapter in the railroad's history and eliminates a quirk that had lingered quietly in the background as Metro-North has established itself', said Catherine Rinaldi, President of Metro-North Railroad. 'By becoming the true owners of the infrastructure that we have long maintained on behalf of the people of New York, we are asserting Metro-North's permanence as an institution dedicated to public service.'