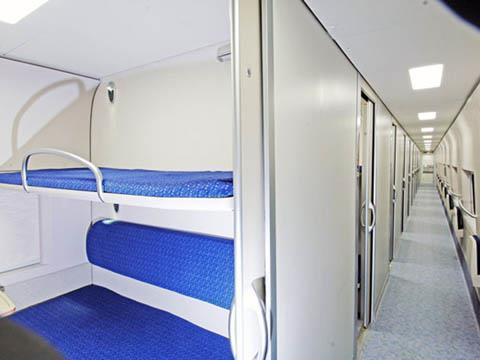 CHINA: Chinese Railways has begun putting a fleet of 20 high speed sleeper trainsets into service on overnight journeys between Beijing, Shanghai and Hangzhou.
In October 2007 the Ministry of Railways placed a €1bn order for a total of 40 high speed trainsets with the Bombardier Sifang Power (Qingdao) Transportation joint venture (RG12.07 p746). Half of these were specified as 16-car versions of the eight-car CRH1 design, and the remaining 20 as sleeper trains for long-distance overnight journeys.
The sleeper trainsets are based on Bombardier's Zefiro high speed train concept; Bombardier said they are the first EMU sleeping cars capable of 250 km/h. Each 16-car EMU has 13 sleeping cars, two seating cars and a restaurant car. The trains are air-conditioned, and onboard entertainment includes personalised film and TV options.
The first sleeper trainset entered service on December 21, and deliveries are due to be completed by August 2010.