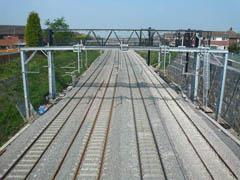 UK: Network Rail announced on September 23 that it had awarded Balfour Beatty Rail Projects a £60m contract for work on the £300m Airdrie - Bathgate project to reinstate an additional route between Edinburgh and Glasgow.
The contract covers doubling the 2 km line between Airdrie and Drumgelloch, reinstating double track on the 24 km alignment between Airdrie and Bathgate, and electrifying the entire route at 25 kV. Ground investigation work has commenced, and main works are due to begin early next year for commissioning in late 2010.
Under a separate phase of work, the 16 km line between Bathgate and Newbridge Junction will be doubled during a nine-day blockade starting on October 11.