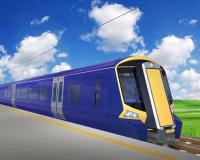 UK: An order for 38 Siemens Desiro EMUs was announced on July 11 by John Swinney, the Scottish Government's Cabinet Secretary for Finance & Sustainable Growth.
Passenger franchisee First ScotRail led the procurement of the 16 four-car and 22 three-car units, and is expected to sign the contract later this month following a 'mandatory contractual standstill period'. HSBC will finance the trains in a deal valued at more than £180m, and they will be leased by First ScotRail under a 17-year contract.
Testing of the first train is scheduled to begin in May 2010, with the first expected to enter service from December 2010. Transport Scotland will spend £40m on lengthening platforms in Ayrshire and Inverclyde, enhancing facilities at Shields Road depot in Glasgow, where the trains will be maintained, and upgrading maintenance sites at Yoker and Ayr Townhead.
The trains will be fully air-conditioned, with power sockets for laptops, full disabled access and provision for cyclists and luggage.
'Tens of thousands of commuters from across the west of Scotland will experience the benefits of this investment, as will leisure travellers, across a wide area from Gourock to Glasgow to Ayr,' said Swinney. 'Other rolling stock will be released to service the Airdrie - Bathgate line, providing significant additional capacity on services connecting stations between Edinburgh and Glasgow.'
The trains will also be used on the Glasgow Airport Rail Link, where tendering for the main civil works contracts is now underway.