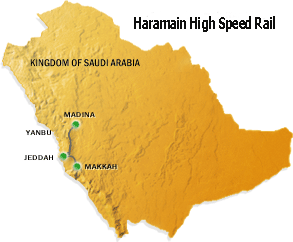 SAUDI ARABIA: The Al Rajhi Alliance has won the 6·79bn riyal design and build contract for civil works on the Haramain High Speed Rail project. Work is scheduled to begin in March on the 444 km high speed line linking the holy cities of Makkah and Madinah via Jeddah and King Abdul Aziz International Airport.
The Al Rajhi Alliance is led by Mada Group, and includes Bouygues, Al Arrab Contracting, Arup and China Railway Engineering Corp. Following pre-qualification detailed bids were also received from a consortium led by Saudi Binladen Group and the Saudi Oger joint venture.
Expected to run for three years, the Phase 1 Package 1 contract covers civil works. The stations at Makkah, Jeddah Central, Jeddah Airport, King Abdullah Economic City and Madinah Knowledge Economic City will be built under Package 2, which is also expected to run for three years, according to Saudi Railways Organisation President Abdul Aziz Al Hoqail.
Trains will run at up to 320 km/h, giving a 2 h journey time between Madinah and Jeddah and 30 min for the 72 km from Jeddah to Makkah. Transport Minister and Chairman of SRO Jobarah Al-Suraisry said high speed trains will be an ideal solution to the transport problems faced by the millions of Hajj and Umrah pilgrims who travel to Makkah each year.
Saudi Binladen Group and Thales have been awarded a 2bn riyal contract for signalling and telecoms on the North-South railway project.