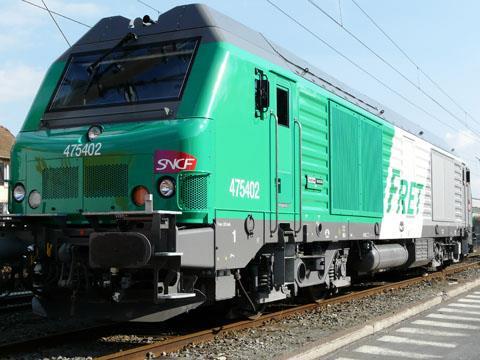 FRANCE: The first Prima BB 475000 diesel locomotive with an MTU 4000 R43 engine has been delivered to SNCF, Alstom announced on April 12. The locomotives are being supplied by a consortium of Alstom and Siemens within a 2004 agreement for at least 400 Prima locomotives.
The latest locomotive is an update of the design to meet the latest European emissions and noise standards. The R43 engine is rated at 2·4 MW rather than the 2 MW of the R41 which has been installed in 99 locomotives supplied to SNCF since March 2007 for use in France, and 33 which are equipped for cross-border operation between France and Germany.
Alstom is responsible for the bodyshell, brakes, cab, driver's desk, bogies and traction motors, while Siemens is supplying the electrical equipment and MTU engines.
Alstom has sold more than 2 000 Prima locomotives since the prototype was unveiled in 1999, with customers in countries including Syria, Israel, Sri Lanka, Iran and China. SNCF has 235 electric Prima locomotives for freight traffic and 65 for Transilien passenger services, plus the diesel versions.