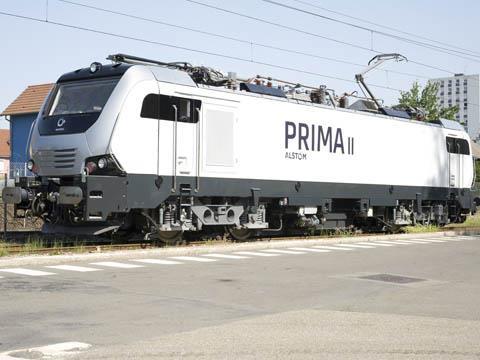 FRANCE: The prototype Prima II locomotive was unveiled in a ceremony at Alstom Transport's Belfort plant on June 3. The locomotive will shortly be sent for testing at the Wildenrath circuit in Germany, and once certification is obtained commissioning is planned for 2011.
The development of Prima II has been funded by Alstom in a bid to produce a platform which can compete against products such as Bombardier's Traxx family. The locomotive is highly standardised, with a view to being simple to manufacture, operate and maintain, and Alstom will offer customers services ranging from the supply of spare parts to complete maintenance packages.
The four -system locomotive is designed for 1·5kV, 3 kV, 15 kV and 25 kV electrification, with maximum speeds of 140 to 200 km/h and outputs up to 6·4 MW depending on the chosen configuration. The high degree of modularity will allow individual locomotives to be reconfigured to meet changing customer requirements throughout their lives.
The cabs are fitted with air-conditioning and noise insulation, and the driving desks are designed to meet UIC612 standard for interoperability.
The prototype locomotive was rolled out in the same metallic grey and blue livery chosen for Alstom's AGV high speed train demonstrator.
The first customer for Prima II is Morocco's ONCFM, which placed a €75m order for 20 locomotives in November 2007. Deliveries will begin in the third quarter of this year.
Read about Prima II in the July 2009 issue of Railway Gazette International