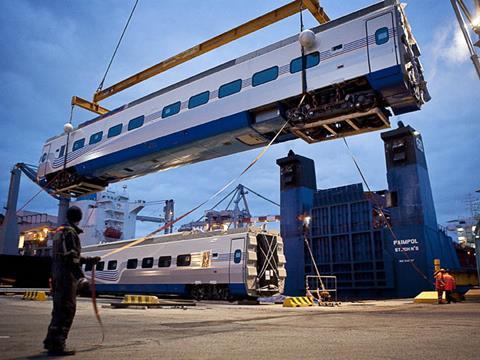 RUSSIA: RZD placed an order for 200 EP20 dual-system electric locomotives for inter-city passenger services at the 1520 Strategic Partnership event in Sochi on May 27.
The 3 kV DC/25 kV AC single unit locomotives will be the first products to emerge as a result of the alliance between Transmash Holding and Alstom Transport. Alstom now holds a 25% stake in TMH, and a 50:50 product development company has been created, led by Alstom staff.
Alstom Transport President Philippe Mellier confirmed that the EP20 would be 'a new design' that features asynchronous traction motors with IGBT technology and a Bo-Bo-Bo wheel arrangement. The locomotives are being built at TMH's Novocherkassk factory, with the first expected to be rolled out in spring 2011. Deliveries will continue through to 2020, and RZD expects to deploy them on Moscow - Sochi trains during the Olympic Winter Games in 2014.
Mellier hoped that the EP20 order would be the first of many for the Alstom-TMH joint venture. He is optimistic of winning 'a big freight locomotive order' from Kazakhstan's KTZ, and he sees further opportunities to use Pendolino-derived EMUs in Russia - Allegro trainsets are set to take over St Petersburg - Helsinki services in December.
'We may bring western know-how to the venture, but TMH's role is absolutely crucial - they know the climate and they know the customers. There was huge competition to become its partner, and we are delighted to have won that battle,' Mellier affirmed.