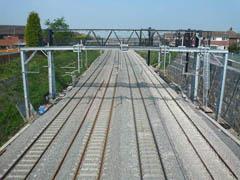 UK: The announcement on July 23 by Secretary of State for Transport Lord Adonis that the Great Western Main Line linking London, Bristol, Cardiff and Swansea is to be electrified at 25 kV 50 Hz comes almost exactly 25 years after the go-ahead for the UK's last main line electrification. The then Transport Secretary Nicholas Ridley approved the London - Edinburgh East Coast Main Line project on July 27 1984.
Last year we reported that UK rail policy was turning back to electrification after a long hiatus following privatisation (RG 12.08 p942), driven by pressure from the rail industry and concern over greenhouse gas emissions. Network Rail has just a third of its network route-km electrified, compared with more than 50% for most major European infrastructure managers. As well as wiring the GWML by 2017, along with the routes to Newbury and Oxford at a total cost of £1bn, NR has also been authorised to electrify the Liverpool - Manchester line by 2014 as a £100m 'infill' project. The two schemes are intended to trigger a rolling stock cascade that will avoid the need to order new DMUs and diesel-powered inter-city trainsets.
Welcoming the announcement, NR Chief Exec­utive Iain Coucher said it was 'a good start, but there is much further to go'. NR published its draft electrification strategy on May 15. As well as the GWML, this recommended wiring the Midland Main Line between London and Sheffield plus further infill schemes. Along with projects promoted by the devolved Scottish government, these would lift the proportion of electrified track-km from 41% to 50%.
NR said these projects would be self-financing, and could pave the way for a rolling programme covering more than 4 500 route-km, as each scheme in turn makes the next more viable.
Department for Transport officials have been warning of tough times ahead, as the government struggles to close a budget shortfall in the face of economic recession. DfT's Director, Rail Technical & Professional, Tony Mercado told an industry conference in June that 'there will be severe constraints on funding for the foreseeable future'. The revelation that National Express's flagship East Coast franchise is about to run out of money merely underlined the fact that a growing number of passenger train operating companies are receiving support from DfT as revenue falls short of their franchise plans.
With the government due to meet one third of the cost of London's £16bn Crossrail project, investment will indeed be tight in the next few years, and further electrification may have to give way to a second high speed line. On July 13 Adonis told The Independent that while there would be 'difficult decisions' to make, the construction of High Speed 2 should not be delayed. 'The difference between doing it soon and doing it in another generation would be huge', he insisted. Development company HS2 is due to report by the end of this year on options for a line linking London, the West Midlands and eventually Scotland.
Adonis firmly believes that HS2 must go ahead, and to strengthen public and political opinion, he is hosting a conference in London on September 9, which will bring together speakers from Europe, Japan and the USA to explore the societal and economic benefits of high speed rail. Railway Gazette International is media partner for the HSR Summit, which is being organised by Steer Davies Gleave.