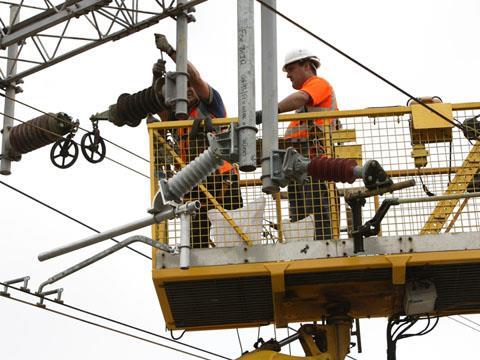 UK: An immediate start of detailed planning for electrification of the Great Western Main Line and Manchester Victoria - Liverpool route were announced by Secretary of State for Transport Lord Andrew Adonis on July 23.
The Great Western route will be electrified from London to Bristol, Cardiff and Swansea by 2017, along with the lines to Oxford and Newbury, at a cost of £1bn.
The 51 km route beween Manchester Victoria and Liverpool Lime Street will be electrified by 2013 at cost of £100m. Speeds on this line are to be raised from 120 km/h to 144 km/h under existing plans, and short sections are already wired.
The £1·1bn total investment will be funded by Network Rail with government support. Adonis said electrification will be self-financing in the medium term though lower train maintenance, leasing and operating costs, and as a result it can be undertaken without reducing planned infrastructure enhancement to 2014.
The electrification projects benefit from the overlap of a series of ongoing schemes, including the need to replace the diesel High Speed Train fleet over the next decade, Crossrail, the Thameslink Programme, a major rebuild of Reading station and the introduction of ERTMS. Co-ordination should keep costs down.
The government and Transport for London will consider the benefits of moving the terminus of the future Crossrail service west from Maidenhead to Reading.
Rolling stock
The Department for Transport said international experience shows that a 'well designed constructed and maintained' electric railway is more reliable than a diesel equivalent, with train leasing costs claimed to be 20% lower and operating costs 35% lower. The advantage will increase with the implementation of tighter emissions standards from 2012.
Electrification 'radically changes' train procurement requirements, reducing the need for diesels. As a result the government's diesel train procurement plan has been superseded, and a new rolling stock plan will be released this autumn.
The Super Express Trains to be delivered from 2013 under the Intercity Express Programme 'will now be predominantly electric powered on the London to Swansea line', allowing 'sub-optimal' replacement with a diesel-only fleet to be dropped in favour of electric trains and 'bi-modal' trains with a diesel generator at one end and electric transformers at the other; these will serve Worcester, Gloucester, Cheltenham, Carmarthen and the southwest beyond Bristol.
The delivery of a large fleet of new EMUs for Thameslink in 2013-15 will free the current Class 319 fleet. These will be refurbished and fitted with air-conditioning, entering service between Liverpool and Manchester from 2013, and on GW commuter services from 2016. The current fleet of Network Turbo DMUs on GW commuter services will be refurbished for the Bristol area and the southwest, releasing DMUs for use in northern cities.
Electrification of the Liverpool - Manchester route will allow the operation of electric trains from Manchester Airport to Edinburgh and Glasgow, using EMUs currently operating out of London Euston. This will free DMUs for Manchester - Leeds TransPenine Express services. The wiring will also provide a diversionary route for West Coast Main Line services to Liverpool and Manchester.
Response
The electrification announcement was made just days short of the 25th anniversary of the go-ahead for the last major main line electrification project, covering the East Coast Main Line.
The Association of Train Operating Companies said the latest announcement marks major progress since October 2007 when ATOC and Network Rail jointly asked DfT to reconsider its previous position of playing down the case for electrification.
DB Schenker endorsed electrification, saying the GWML is a key corridor for stone and other construction materials. 'Faster and longer freight trains would operate between the aggregate supply points and London on an electrified rail route' said the UK's largest rail freight operator, which is keen to see gauge enhancement included in electrification plans and has previously outlined 35 infill electrification proposals that would enable a greater use of electric haulage by freight operators.
Writing in The Times on July 23, Adonis said the government will look at the case for further electrification, including extending electrification on the Midland Main Line north from Bedford to Sheffield.
Network Rail Chief Executive Iain Coucher said the announcement was 'a good start, but there is much further to go', and it should lead to a major rolling programme of electrification
Electrification Timescales
Great Western
Detailed planning
Immediate
Early works
2012-14
Main construction
2014-16
Electric services from London to Oxford, Newbury, Bristol
end 2016
Bristol – Swansea
end 2017
Cost
£1bn
Liverpool – Manchester


Detailed planning
Immediate
Main construction
2011-13
Opening
2013
Cost
£100m




Rolling stock
Thameslink rolling stock delivered
2012-15
Super Express Trains delivered

from 2013

Crossrail starts
2017