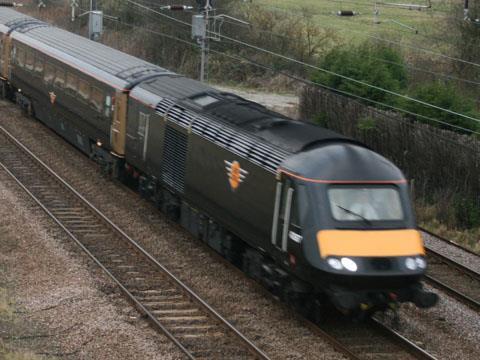 UK: Rolling stock leasing company Angel Trains has bought three High Speed Train sets from Sovereign Trains, sister company of open access operator Grand Central Railway. The inter-city diesel trains will be leased back to the operator under a contract running to December 2016, Angel Trains announced on March 2.
A performance and reliability improvement programme will start in June, with Brush Traction to install MTU engines in the six power cars and undertake modifications to the coaches at its sites in Loughborough and Kilmarnock.
'The sale and leaseback of our HST fleet to Angel Trains will allow us to fast-track the refurbishment and re-engineering of these vehicles', said GC Chairman Giles Fearnley. 'The new engines and associated works will deliver better reliability and greater fuel economy, whilst at the same time reducing noise, vibration and emissions.'
One of the rolling stock leasing companies formed with the privatisation of British Rail, Angel Trains now owns and maintains more than 4 400 rail vehicles in the UK, about 37% of the total. As well as the HSTs, Grand Central also leases 25 Class 180 DMU cars from Angel Trains.
'With the future of the Intercity Express Programme in doubt the HSTs and Class 180s may remain the backbone of East Coast Main Line services for years to come', said Angel Trains CEO Malcolm Brown.