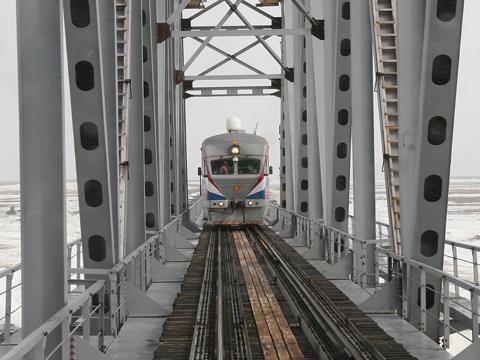 RUSSIA: A ceremony held on a remote flood plain on the Yamal Peninsula on September 24 marked completion of the longest bridge within the Arctic Circle. The 3∙9 km structure over the Yuribey River will carry the 572 km line from Obskaya to Karskaya which is currently being built by Gazprom.
Due to open next year, the railway will be used to transport construction materials and workers to the Bovanenkovskoye gas field, one of the largest untapped gas reserves in the country. The line will also be used to ship gas condensate from the field. Gazprom reports that 472 route-km have already been laid, paving the way for the 525 km from Obskaya to Bovanenkovo to open in January 2010, with the remainder opening in September. The line will have five stations, 12 passing loops and 70 bridges totalling 12 route-km.
The bridge over the flood plain features a novel crossing-arm design, intended to maintain the structure's stability within a permafrost base. The crossing arms comprise a series of 1∙2 mm to 2∙4 mm diameter metal pipes buried in shafts drilled into the permafrost at a depth of 20 m to 40 m, and filled with reinforced concrete. These help to protect the bridge from the risk of thawing permafrost, according to Gazprom.
Speaking at an energy summit in the Siberian city of Salekhard on the same day, Russian Prime Minister Vladimir Putin urged Gazprom to sell the railway to RZD to enable it to concentrate on its core business of upstream gas production - an idea apparently supported by Gazprom CEO Alexei Miller. The energy giant values the Yamal line at 170bn roubles, but in response to Putin's suggestion, RZD President Vladimir Yakunin was quoted as saying, 'for this kind of money, let them keep it'.
Earlier this month, Gazprom denied reports that it was planning to buy a fleet of GE Transportation Evolution Series diesel locomotives to operate the Yamal line.