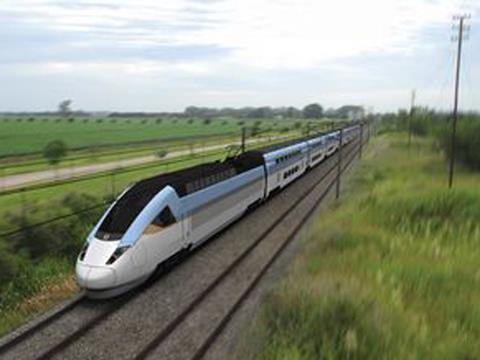 AN INTERNATIONAL consortium led by Alstom has been formally selected to build South America's first high speed railway, President Cristina Fernández of Argentina officially announced on January 16.
The Veloxia consortium was named as preferred bidder for a turnkey contract to construct the Buenos Aires – Cordoba line in June last year. CAF and Siemens had also been shortlisted, but in the event they did not submit bids. Veloxia will now finalise and sign the contract 'in the next few months', according to Alstom, which is in partnership with IECSA, EMEPA and Isolux Corsan.
The line is scheduled to open in around three years. There will be nine return trips a day on the 710?km route, running at up to 320?km/h and cutting the present 14 h journey between the cities to 3 h.
Alstom will supply and maintain eight 'Cobra' double-deck TGV trainsets, each with a capacity of 509 passengers in premium and tourist classes. The rolling stock will be assembled at La Plata in Buenos Aires province using components supplied from Alstom's French sites.
IECSA will be responsible for civil works, while Isolux Corsan and EMEPA will construct around 780 route-km of track. The line will be electrified, and equipped with ERTMS Level 2 signalling.
High speed route
The 710 km route will start at a new station to be built between the TBA and Ferrovías stations at Retiro in Buenos Aires, follow the Ferrovías alignment to Pilar and then run towards San Nicolás, where the ex-Mitre station will be refurbished. From there, the line will reach Rosario Oeste, where a new station will be built, and then follow the Nuevo Central Argentino alignment with stops at Marcos Juárez, Belle Ville and Villa María. The line will end at the old Mitre station in the centre of Córdoba.
At the start of service, it is planned that nine daily return trips will reach Rosario on the double-track route, while four trains a day will run to Córdoba on a new single-track alignment.