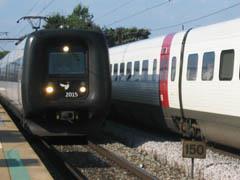 DENMARK: Infrastructure manager Banedanmark has selected Nokia Siemens Networks and Ramboll Telecom for a turnkey contract to replace its analogue radio communications with GSM-R. The contract announced on June 29 is part of the national resignalling programme which will see ETCS Level 2 installed across the network in 2015-21.
Nokia Siemens Networks will be responsible for design, implementation and maintenance of the GSM-R systems, and is to supply switches, base stations, intelligent networking technology, operator terminals and voice recording equipment.
Ramboll will be responsible for the infrastructure. Around 160 of the railway's existing radio masts will be re used, another 80 erected, and GSM-R equipment will be installed on 60 mobile telephone masts and other structures.
'The radio system we currently use for communication between trains and our control centres is singing its last verse', according to Banedanmark CIO Kenneth Lau Rentius. 'We have been out on the world market to buy up the last parts, because the radio systems are not produced anymore. Fortunately, there was a political decision to introduce GSM-R.'
The first GSM-R train radios will come into use for voice communication in 2013. A second phase from 2015 will see the implementation of GSM-R for train control under the ETCS project.