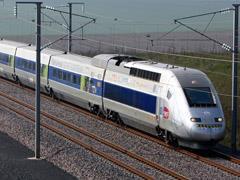 FRANCE: Réseau Ferré de France signed its first public-private partnership concession agreement on February 18, covering the installation and operation over 15 years of GSM-R communications systems, which are to be rolled out on 14 000 route-km of the core network by 2015.
Winning bidder is the Synerail consortium, bringing together TDF Group with Vinci Energie, Vinci Concessions, telecoms group SFR and finance partner AXA Private Equity. The consortium had been selected as preferred bidder in February 2009, but the final negotiations have taken a year to achieve financial close.
Valued at €1bn, the deal is the largest single PPP contract awarded in France so far, according to RFF. The contract value is split approximately equally between the capital cost of installation and the ongoing costs for operation and maintenance.
As well as the consortium partners. Funding for the deal is being provided by a group of banks led by Crédit Agricole, including BBVA, Bayern LB, Dexia, Intesa, KfW, Santander and Sumitomo. Casse des Dépôts and EIB will be involved in a partial refinancing when the equipment goes into operation.
RFF has already installed GSM-R on around 2 000 route-km, and the concession agreement will extend the coverage to more than 50% of the 30 000 km network.
The GSM-R concession is the first of three pilot PPP projects being developed by RFF to examine different models for private-sector funding. Two more are close to financial close, covering LGV Sud Europe Atlantique between Tours and Bordeaux and the mixed-traffic Contournement Nîmes – Montpellier which forms an extension to LGV Méditerranée.
PPP financing is being envisaged for the construction of LGV Bretagne-Pays-de-la-Loire between Le Mans and Rennes.