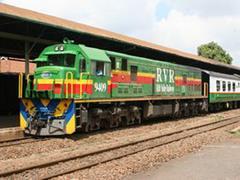 AFRICA: Burundi's Minister of Transport, Post & Telecommunications Philippe Njoni announced on November 5 that he expects a five-year, US$4bn international rail project to commence in 2009.
The proposed 691 km railway will run from Bujumbura in Burundi and Kigali in Rwanda to Isaka on Tanzania's metre gauge Dar-es-Salaam - Tabora - Mwanza line. The Tanzanian line would be rebuilt, and the port at Dar-es-Salaam upgraded.
A feasibility study has been completed by DB International, and earlier reports suggested that 1 435 mm gauge is envisaged. The work will be funded by donors and the three governments, according to Rwandan Minister of Infrastructure Linda Bihire, who said that US railway BNSF has offered its expertise.
Meanwhile, New Times of Kigali reports that Ugandan Minister of Transport & Works John Byabagambi has said that feasibility studies will start early in 2009 to determine the financial implications and technical requirements of reinstating the disused 333 km metre gauge railway from Kampala to Kasese, and the construction of an extension south to Kigali.
On October 27 Kenyan President Mwai Kibaki and his Ugandan counterpart Yoweri Museveni agreed to create a joint ministerial commission to expedite construction of a standard gauge rail network starting at Mombasa and extending through Kenya and Uganda to Sudan and DR Congo. Rwanda and Burundi were also mentioned.