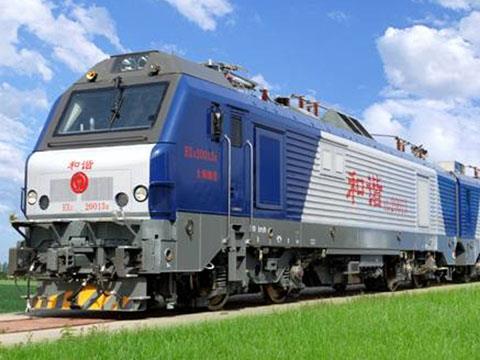 BELARUS: CNR Datong Electric Locomotive has announced a 700m yuan agreement to supply national railway BC with 12 two-section electric freight locomotives following a visit to Belarus by Chinese Vice-President Xi Jinping.
There is significant international transit freight through Belarus, and the state railway wishes to improve efficiency by increasing trains from 5 500 tonnes to 7 500 tonnes.
CNR has developed range of electric locomotives from 7·2 to 9·6 MW for the Chinese domestic market, as well as the 4·4 MW HXN3 diesel. The 25 kV 50 Hz BCG-1 electric locomotives for Belarus will be derived from the HXD2, which in turn is based on Alstom's Prima family. They will be rated at 9·6 MW, with a top speed of 120 km/h, built-in fault diagnostics and modular components designed to simplify maintenance.
Chinese firms will also assist with electrifying the Homel - Zhlobin - Asipovichy and Zhlobin - Kalinkavichy lines, totalling 294 route-km, to be funded with a loan from China's Exim bank.
BC has also signed a memorandum of understanding with China's Ministry of Railway setting out plans to co-operate in the development of high speed rail in Belarus.