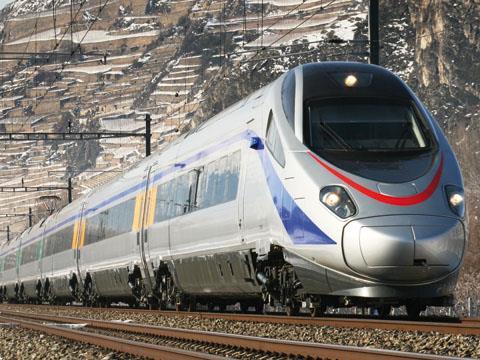 EUROPE: While Dutch and Danish engineers continue to wrestle with the V250 and IC4 trainsets respectively, another challenging procurement saga appears to be drawing to a close. With a palpable sense of relief, the Cisalpino joint venture operator announced on July 20 that the first of its Class 610 tilting trains had finally entered revenue service that day, working the 05.45 from Genève to Milano and 16.25 return.
Ordered from Alstom Ferroviaria in February 2004 at a cost of SFr450m, the Cisalpino II sets are a follow-on to Trenitalia's 12 ETR 600 third-generation Pendolinos. Originally due for delivery between February and October 2007, the Class 610s were intended to augment the nine ETR 470 sets acquired in 1996, allowing all daytime inter-city services between Italy and Switzerland to be worked with tilting trains and expanded to further destinations (RG 4.04 p224). The three-voltage sets are able to run at up to 250 km/h on the Italian high speed lines, but as yet the only place in Switzerland where they can exploit that capability is the Lötschberg base tunnel, which was cleared for 250 km/h operation in December.
With delivery of the Class 610s repeatedly delayed and the ETR 470s sidelined by faults, Cisalpino and its parents SBB and Trenitalia were left scrabbling to find sufficient substitute stock to operate a temporary timetable (RG 2.09 p27). But on July 17, Cisalpino confirmed that the new units would enter service between Genève and Milano, albeit without tilt, and their field of operation would be expanded to the Lötschberg route from the end of August.
However, further work is required before the trains can be put into use on the Gotthard corridor, where they are intended to cut 15 min from the Zürich – Chiasso timings. Swiss safety regulator BAV has reportedly not approved the use of tilt as it is concerned that the 450 tonne trainsets would impose excessive forces on the track when curving at higher speeds.
SBB remains confident that the technical challenges can be overcome, but CEO Andreas Meyer says the Class 610s will not be formally accepted until the remaining problems have been solved.