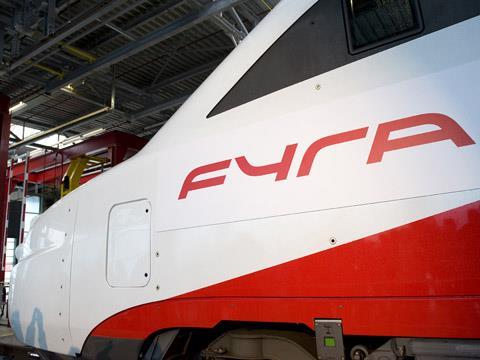 EUROPE: Amsterdam - Brussels high speed services will be branded 'Fyra', NS Hispeed and SNCB revealed on July 7. The announcement at NedTrain's Watergraafsmeer high speed train depot was accompanied by a formal presentation of the prototype of the AnsaldoBreda 250 km/h V250 trainsets, previously known as 'Albatros'.
NS Hispeed said the Fyra brand is 'short, international and powerful providing an interesting visual combination that projects stateliness, strength and self-confidence.' It also 'evokes the number four in Swedish', reflecting the four major cities of Amsterdam, Rotterdam, Antwerpen and Brussels which will be the cornerstones of the Fyra network. The logo 'is red which evokes sparks, fire and speed. The magenta adds that bit of glamour'.
The prototype V250 is currently fitted with measuring and testing equipment, and will remain the property of the manufacturer during testing on HSL-Zuid in the Netherlands and high speed Line 4 in Belgium. Once testing is completed it will be returned to Italy for fitting out.
The production trains are expected to enter service in the second half of 2010. As an interim measure until the test programme is completed NS Hispeed will begin services on HSL-Zuid 'in the autumn of 2009', with 12 Bombardier Traxx locomotives leased from Angel Trains International hauling ICR coaches at 160 km/h between Amsterdam and Rotterdam.
NS Hispeed has ordered 16 of the triple-voltage V250 trainsets and SNCB three. Fyra services will operate the Amsterdam - Schiphol - Rotterdam - Antwerpen - Brussels and Amsterdam - Schiphol - Rotterdam - Breda routes, with Amsterdam - Brussels timetabled for 1 h 46 min and Rotterdam - Schiphol 20 min. Fyra trains will attract a supplement, though introductory fares will be offered for the first month.
'The unveiling of this train from AnsaldoBreda today brings the connection of the Netherlands to the European high-speed network a step closer', said Michiel van Roozendaal, Managing Director of High Speed Alliance. 'This is a development that will be welcomed by our customers and benefit the Netherlands as a whole. The new train will bring European cities closer together. Passengers using Fyra will travel more quickly, easily and in greater comfort.'
NS Hispeed is the operating name of High Speed Alliance, which is owned 90% by NS and 10% by KLM Royal Dutch Airlines. NS Hispeed will be a Dutch umbrella brand for high speed operations, including Thalys, ICE International, TGV, Eurostar and Fyra. NS Hispeed expects to carry 26·4 million passengers in 2011. Around 18·4 million of these will be on domestic services, including a 35% share of the Amsterdam - Rotterdam market.