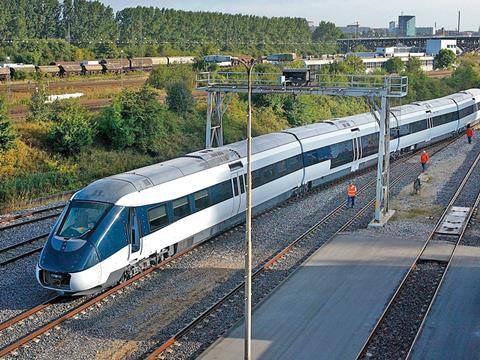 DENMARK: A year after issuing an ultimatum to AnsaldoBreda over the protracted delays to the delivery of its IC4 diesel multiple-units, on May 20 state railway DSB announced an agreement to restructure the troubled procurement contract.
The delivery timescale for the 83 IC4 trainsets and 23 IC2 derivatives for regional operation has been extended to 2012, and AnsaldoBreda will compensate DSB for its increased costs. As a stop-gap, DSB is leasing an additional 45 double-deck push-pull coaches, plus an extra three ICE-TD trainsets from DB.
In its May 2008 ultimatum DSB required AnsaldoBreda to deliver 14 IC4 sets by May 2009 for commissioning for single unit operation, plus at least one set approved for coupling to other units. All 15 have now been delivered, and DSB is operating three daily departures with single IC4s on Mondays to Thursdays. The extra set for the coupling tests began running earlier this month, but only has 'qualified' type-approval, and AnsldoBreda has been asked to submit additional documentation to regulatory body Trafikstyrelsen by July 27.
According to DSB, there is no realistic prospect of acquiring alternative rolling stock should the contract be cancelled outright. Ordering a batch of IC3s to a 20-year old design would be expensive and technically challenging. DSB sees little prospect in buying new diesel trains given the prospect of further electrification, but this is not expected to start until after Banedanmark's national ETCS roll-out is completed around 2020. This would leave a hiatus in the introduction of new trains.
DSB reports that the biggest problem with the IC4s is the train management software, which will need 'substantial upgrading'. It also notes a number of production faults, blamed on each set being 'hand-built' ahead of series production.
Under the new agreement, AnsaldoBreda is to cease development work on the IC4s following acceptance of the coupling test unit, and move into series production of the remaining sets to the same specification. As series production ramps up, DSB expects to receive one set in the final quarter of this year, one in the first quarter of 2010 and then three trains/month from April 2010 onwards. Final deliveries are envisaged in the third quarter of 2012, more than a decade after the order was placed in December 2000.
With the manufacturer focusing on production, DSB will take charge of rectification work, upgrading the units to the final specification in its own workshops.
AnsaldoBreda has agreed to pay compensation totalling DKr2bn, in addition to the DKr250m it paid in November 2005. Three instalments of DKr500m will provide DKr800m to cover the completion and upgrading work on the trains and DKr700m to fund the interim rolling stock. The remaining DKr500m to pay for a new punctuality and performance regime will come from a rebate on the provision of spares. Thus, AnsaldoBreda will effectively return half the DKr4·5bn value of the original contract.
DSB has also reserved the right to terminate the contract if eight trains are delivered more than six months late on the revised schedule.