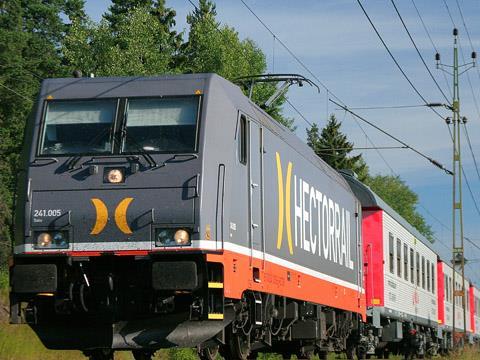 SWEDEN: The first open access trains on the national inter-city network began running on June 22, when Veolia Transport launched an overnight service between Malmö, Göteborg and Narvik using traction supplied by Hector Rail.
The launch follows a decision by the Swedish government to end the monopoly enjoyed by state-owned SJ AB. The former incumbent retained exclusive rights to run passenger services on the core inter-city routes after responsibility for regional services was transferred to local authorities and subsidised long-distance services were put out to competitive tender.
Under a phased liberalisation process, open access operators have been allowed to run at weekends from last month's summer timetable change, and will be permitted to run weekday services from December 12, subject to suitable paths being available. International services will be opened up to competition from January 1 2010 in line with European Union policy.
Veolia is reported to have bid for paths on the Stockholm - Malmö route from December, with locomotive-hauled timings, and may launch a low-cost alternative to SJ's premium X2000 services. There are also suggestions that some 30-year-old inter-city EMUs made redundant in Austria may be heading for Sweden in the coming weeks.