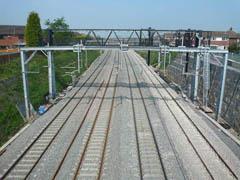 Czech Republic: OKD Doprava, the largest private freight operator in the country, has taken over Viamont Cargo, the third largest.
Europe: European Commission clearance enabled investment bank Arcapita to complete its acquisition of Freightliner Group Ltd from 3i, Electra Private Equity and the company's management and staff on July 24 (RG 7.08 p404).
South Korea: LMS International and Korea Institute of Machinery & Materials have developed software to model the interaction between maglev vehicles and guideways.
Norway: Following tests, 60 PIDstation LED information displays from Init are to be installed on 17 of the busiest Oslo metro stations.
Turkey: TCDD has appointed RENFE to train 24 drivers and 12 instructors ready for the deployment on the Istanbul – Ankara route of 10 high speed trainsets being supplied by CAF. This includes training runs on RENFE high speed trains as well as ERTMS tuition using the Spanish operator's simulators.
UK: The Department for Transport has shortlisted NedRailways, National Express Group, Stagecoach and incumbent Govia to bid for the 5 year 10 month South Central franchise which begins on September 20 2009.