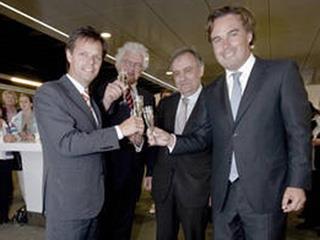 NETHERLANDS: Work has begun to rebuild the 1970s Den Haag Centraal station as 'a spacious, bright and comfortable' multi -modal public transport interchange.
Construction was formally launched on May 25 when Transport Minister Camiel Eurlings, ProRail Projects Director Patrick Buck, city councillor Marnix Norder and Gert Jan Vos of contractor Strukton placed handprints in wet concrete to symbolise the partnership undertaking the work.
The architect is Benthem Crouwel, and a €74·6m construction contract has been awarded to Strukton. Completion is planned for 2013.
ProRail has placed a 'bee hotel' on the roof of Leiden station is and offering passengers free packets of seeds to promote biodiversity.