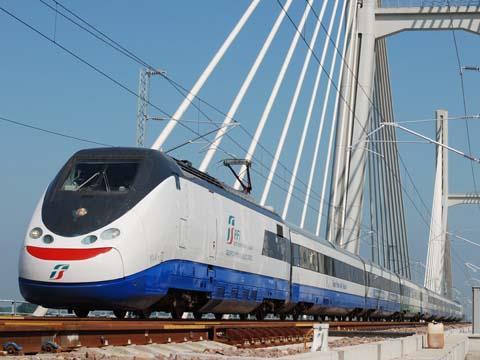 ITALY: Infrastructure manager RFI announced on January 22 that it had selected the Italian-Belgian group Phlippe Samyn & Partners to design and build the proposed Vesuvio Est high speed station on the Napoli - Salerno route.
To be financed entirely with European funding, the new station is expected to cost €32·5m. It is intended to act as a hub for the Campania region on the Torino - Salerno high speed corridor, which was formally inaugurated in December, and will have a catchment area serving around 742 000 inhabitants.
Announcing the go-ahead for the station at the Santa Lucia palace in Napoli, FS Group Chief Executive Mauro Moretti, was joined by the President of Campania Antonio Bassolino, and the City Council Member for Transport Ennio Cascetta. Branded as 'light, strong and clear', the winning design was selected through an international competition. The proposal from Philippe Samyn & Partners is being supported by architectural associates Studio Bargone and engineering consultants SETI.
Located near Poggiomarino, the complex will provide a total area of 8 000 m2, for both the station and retail developments including shops, banks and other services. As well as connections to the Circumvesuviana Railway's Napoli - Ottaviano - Sarno and Napoli - Pompei -- Sarno routes, there would be interchange to FS local services on the Napoli - Salerno conventional line. The station will also be accessing from the nearby A30 motorway and state road 268 linking Ottaviano with Pompei. There will be a large multi-storey car park plus a bus and taxi interchange to serve the surrounding villages.
According to Bassolino, with the existing stations at Napoli Centrale, Afragola and Salerno, the opening of Vesuvio Est will make Campania the only region in Italy to have four high speed stations. With trains running directly to and from the northern cities, passengers would be able to bypass the busy nodes in Napoli, he enthused. The interchange facility will reduce the average journey time from Sarno to Napoli from 65 to 40 min, while Pompei - Roma would be cut by an hour to 2 h 15 min.