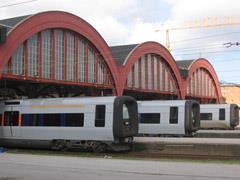 DENMARK: State railway DSB has placed a €82m order with Bombardier for 10 three-car Contessa inter-regional EMUs for use on services across the Oresund bridge to southern Sweden. The contract announced on September 5 includes an option for a further 30 units.
The trains will be leased by the National Rail Authority, which will make them available to DSBFirst, the partnership of DSB and FirstGroup which has won a seven-year concession to operate Øresund services from January 11 2009.
'We have been the victims of our own success', said Søren Eriksenm, Chief Executive Officer of DSB. 'The massive growth in passenger numbers across the Øresund has occasionally led to an insufficient number of seats during peak hour. Consequently, some of our customers have had to remain standing on their way to or from work. With these additional 10 train sets, we aim to increase the satisfaction of our customers in the future.'
The 180 km/h Contessa EMUs automatically switch between signalling systems and Denmark's 25 kV and Sweden's 15 kV AC power supplies. They vehicles will be produced at Hennigsdorf and Görlitz, with bogies from Siegen and traction equipment from Bombardier's plant at Västerås in Sweden.