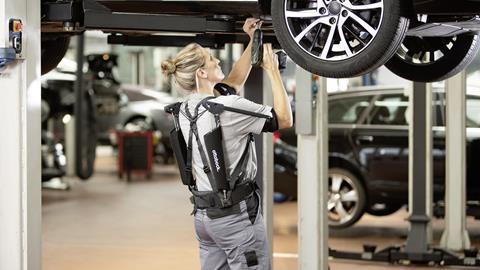 INTERNATIONAL: Medical technology company Ottobock is targeting the rail sector with its Paexo Shoulder exoskeleton tool.
Developed under a six-year R&D programme and launched in the automotive sector around 18 months ago, Paexo Shoulder is a supportive exoskeleton tool which uses a series of support mechanisms to assist workers doing strenuous and repetitive activities, particularly overhead work. The weight of the raised arms is transferred to the hips with the help of mechanical cable pulleys, which provides relief for the muscles and joints in the shoulder region.
The passive exoskeleton does not need an energy supply, which the supplier says makes it very lightweight, with a mass of 1·9 kg. It is worn close to the body, similar to a backpack, enabling freedom of movement, based on natural human biomechanics.
Speaking at the AusRail Plus trade show in Sydney on December 5, Lotte Koenig, Business Development Manager at Ottobock, explained that while 'staff would feel an immediate benefit' from using the device, this sensation would increase as they performed several shifts over two or three days. 'We are looking to prevent musculo-skeletal disease in the long term', she added.
Paexo Shoulder has already been trialled in rolling stock manufacturing and maintenance applications in Europe. Ottobock is now targeting the global market, starting with the Australasian region where the company already has an established presence.