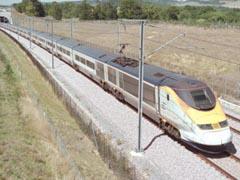 EUROPE: A framework agreement enabling the final stages of the restructuring of Eurostar from a partnership into a corporate entity has been signed by the three national shareholders SNCF, SNCB and London & Continental Railways.
Announcing the move on April 12, recently-appointed Eurostar CEO Nicolas Petrovic said 'I am very pleased that we are moving closer to the new corporate structure which will streamline decision-making, deliver consistency of service standards across the three countries and ensure that the business is well placed to compete in an open-access world'.
During Quarter 1 of 2010, Eurostar saw passenger-journeys grow by 5% year on year to reach 2 million, with revenue up by 6% to £178m. However, services were still subject to significant delay during the first seven weeks of Q1 2009 as Eurotunnel repaired fire damage.
The number of leisure passengers increased by 6% in Q1 2010 to 1?76 million, 88% of the total. According to Eurostar, 'the bottoming-out of the business market that began in the latter part of last year continued in the first quarter', with sales revenue 'broadly the same as in Q4 2009'.