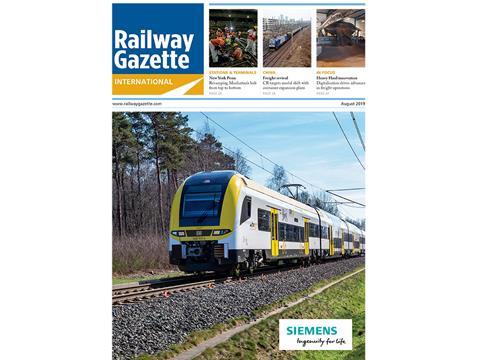 Feature articles in the latest issue of Railway Gazette International, the leading business journal for railway operators and suppliers, read in 140 countries. Subscribe to Railway Gazette International today.
Comment
Jumping on the night train
News
Main Line
Urban Rail
Market
Industry
Innovations
Pointers
Analysis
Safety crisis prompts reform in Taiwan, ERA's cross-authorisation of rolling stock gets off to a successful start, weak ridership puts Rio's trams in trouble
Stations & Terminals
From Penn Station to Empire Complex
New York Penn Station has been roundly criticised in recent years as a symbol of the Big Apple's inability to develop modern infrastructure. But multiple improvement projects are now underway, raising hopes that a more spacious and comfortable hub could yet emerge
Reshaping Riga's central hub
The reconstruction of Riga Central station to accommodate international services using Rail Baltica has provided an opportunity to reconnect divided parts of the city and improve multimodal connectivity
Integrated logistics cut rail handling costs at BASF
Specialist containers are replacing conventional tank wagons for handling liquid chemical products at the BASF production plant in Ludwigshafen, where automated guided vehicles move containers around the site
Gateway Basel Nord targets more cargo on rail
Approval to build the first phase of the Gateway Basel Nord trimodal container terminal is expected later this year. The project looks set to increase the share of container business moving to and from Swiss destinations by rail, reports Murray Hughes
Policy goals drive terminal and fleet expansion
Swiss rolling motorway operator RAlpin presented its plans for investment in terminals and fleet renewal at Transport Logistic in München in mid-June. Reinhard Christeller reports
China
CR targets modal shift as bulk traffic plateaus
Rapid increases in container transport and Eurasian landbridge traffic have helped to boost China's rail freight sector, with improved port links and high speed parcels traffic seen as drivers for future growth. Andrew Benton investigates
In Focus
Innovation in the Far North
Digitalisation, automation and monitoring were key themes running through the International Heavy Haul Association's 2019 Specialist Technical Session. Chris Jackson reports from Narvik
Spotlight Taiwan
Island innovations
In a series of reports, Andrew Benton highlights policy changes at Taiwan Railway Administration and new projects being managed by the recently formed Taiwan Railway Bureau
Research & skills
Airbus and SNCF to co-operate on satellite location technology trials, Aachen students win IMechE's annual Railway Challenge
Forum
People
Dieter
Sidetrack
Diary
Viewpoint
Network Rail CEO Andrew Haines outlines to Tony Miles how both his organisation and the rail sector more broadly must commit to supporting wider social and economic objectives in an era of urbanisation and climate change
Railway Gazette International is the leading business journal for railway operators and suppliers, read in 140 countries. Subscribe to Railway Gazette International today.