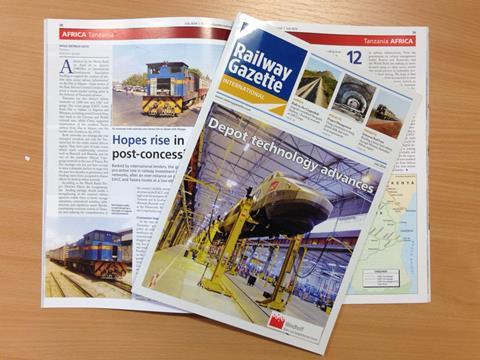 Feature articles in the July 2014 issue of Railway Gazette International, the leading business journal for railway operators and suppliers, read in 140 countries. Subscribe to Railway Gazette International today.
Comment
Balancing public and private
Richard Hope reflects on 50 years of change in the rail sector
News
Main Line
Urban Rail
Market
Industry
Innovations
Pointers
Analysis
DB Schenker builds a pan-European freight railway
PTC progress slips again
Raising awareness of level crossing risk
Wien Hauptbahnhof
IRSE convention
High speed line funding
Saudi Arabia opportunities
Africa
Reviving rail routes to the Copperbelt
Plans are taking shape to revive and rebuild neglected railways to move minerals east and west from Africa's Copperbelt to the sea. Murray Hughes investigates
DR Congo's railway comes back from the brink
Neglected infrastructure is being repaired and rolling stock renovated or replaced as a World Bank supported programme revives the railway in the Democratic Republic of Congo
Hopes rise in post-concession era
The government is investing in Tanzania's two narrow-gauge networks, after an over-reliance on private investment left both the EACC and Tazara routes at a low ebb. Railistics GmbH partner Wolf-Dietrich Geitz reports
Mega EMU project gets underway
The R53m deal to supply a new generation of suburban EMUs for South Africa's major conurbations covers 3600 vehicles over 10 years. Alstom Transport Senior Vice-President Gian-Luca Erbacci discussed the challenge with Chris Jackson.
Project management
Local delivery benefits from a global footprint
Specialist consultancies are playing a growing in the development and delivery of major projects in both the main line and urban rail sectors, working with a broad range of stakeholders. We asked leading companies about the key factors that make for successful project management
Supporting rail projects worldwide
Dr-Ing Denis Loskant, Head of Resources & Competency Management, explains how DB International is building on skills learned in its home market and four decades of experience in different countries to support the development of main line and urban railways across the world
Building the Solomon Rail Line
Fortescue Metals Group selected a joint venture of McConnell Dowell Constructors and Aveng Rail Australia to double-track part of its existing main line, and build the Solomon Spur to serve a new mining hub in the Pilbara. The joint venture's William Goosen and Grant Mete provide the details
A tunnel to benefit northern Europe
The Fehmarn Belt fixed link will be longest immersed tube tunnel for both road and rail use in the world when it opens in 2021, writes Johnny Restrup-Sørensen. Contract Director, Railway, at Femern A/s
Workshops & maintenance
Maintaining Auckland's EMU fleet
The NZ$100m Wiri maintenance depot forms an integral part of the project to launch electric suburban services around Auckland
In focus
Łódź rethinks its suburban network
Last month saw the launch of a new suburban rail operation in Poland's third-largest city. Ryszard Piech reports
Research & skills
Crocodile competition
On the safe side
Smart day
Transport science academy agreed
Forum
People
Dieter
Sidetrack
Letters
Diary
Rail Supply Industry Watch
In our quarterly survey of the rail supply sector, we asked our panel to consider ways to increase the competitiveness of railways around the world