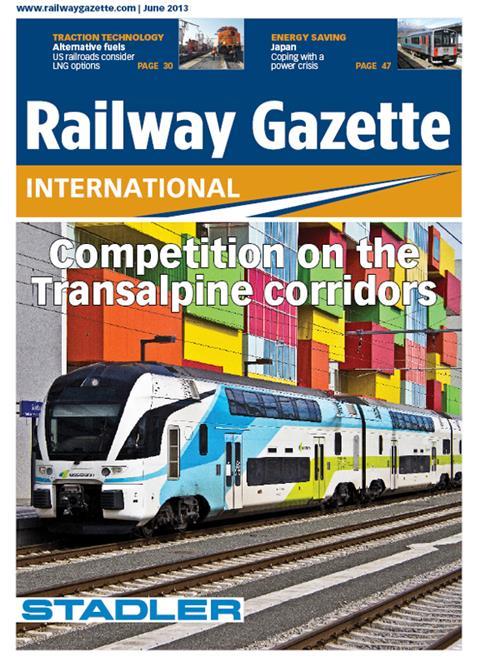 Comment
Harness innovation to drive a revolution
News
Main Line
Urban Rail
Market
Industry
Innovations
Pointers
Analysis
European reform debate heats up
Swiss vertical integration to stay
CargoBeamer targets Calais
ZSSK Cargo seeking another lifeline
Getting Buenos Aires moving
Queensland opts for 'contestability'
Lending a neighbourly hand in Indonesia
Traction & energy saving
In search of the tipping point
North American railroads are looking to alternative power sources as the price of diesel continues to soar. David Lustig reports.
Multi-engined diesels take to the tracks
The first of 20 Traxx ME locomotives for DB Regio are now on test in southern Germany.
Celebrations in the sun
The first Siemens Cities Sprinter electric locomotive for Amtrak's Northeast Corridor services was unveiled on May 13. David Lustig reports from Sacramento.
Digital substations simplify supply control
Railway electrification systems can benefit from advances in protection and control technology used for high-voltage transmission lines, explain Hervé Amossé, Simon Richards, Sankara Subramanian, Ceyhun Cecen and Iván Siles of Alstom Grid.
Coping with a power crisis
In the wake of the Honshu earthquake and tsunami in 2011, Japan's railways have faced a power crisis. Professor Satoru Sone suggests better use could be made of energy storage technologies.
Ticket2Kyoto explores energy recovery systems
An EU-funded research programme is testing various reversible substation designs to recover regenerated braking energy from DC traction supply systems. Chris Jackson investigates.
Austria & Switzerland
Is Switzerland's transit freight policy working?
Plans for a second Gotthard road tunnel put Switzerland's ambitious modal shift objectives in doubt, as Murray Hughes explains.
Forging through the Alps
Konrad Bergmesiter of Brenner Basistunnel BBT SE describes the Brenner Base Tunnel, which will become the longest underground railway in the world when it opens in 2026.
In focus
Integrated control in Bologna
All signalling and traffic management functions for the network around Bologna are being integrated into a single control centre. Murray Hughes reports from Italy.
Axonis targets mini-metro market
Alstom Transport unveiled its Axonis concept at UITP's Mobility & City Transport exhibition on May 27.
Forum
People
Research & skills
Dieter
Sidetrack
Publications
Diary
Viewpoint
Coping with growth is the real challenge
Despite recent controversy over franchising, Britain's railway is a little-heralded success story, argues Eurostar Chairman Richard Brown.