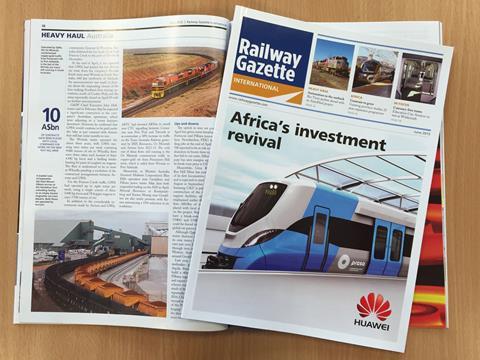 Feature articles in the latest issue of Railway Gazette International, the leading business journal for railway operators and suppliers, read in 140 countries. Subscribe to Railway Gazette International today.
Comment
News
Main Line
Urban Rail
Market
Industry
Innovations
Pointers
Analysis
Tighter rules for tank cars agreed
FS urges reciprocity in market opening across Europe
Government backs shale shipments in Argentina
Heavy haul freight
IHHA returns to its roots
The 11th International Heavy Haul Association Conference takes place at the Perth Convention and Exhibition Centre on June 21 - 24
AutoHaul pushes ahead as ore prices slump
Rio Tinto is continuing work on its ambitious automation programme despite the difficult market conditions. John Kirk investigates
A turbulent market
The end of Australia's mining boom is having a severe impact on the country's heavy haul railways
Carving a successful niche
With a focus on heavy ore and coal traffic, Poland's PKP LHS broad gauge railway has been growing volumes steadily over recent years and significant investment in infrastructure and rolling stock is ongoing
Africa
Consultants assess Gautrain extensions
Aligned with the 25-year Integrated Transport Master Plan for Gauteng province, a feasibility study looks set to recommend expansion of the Gautrain network
Evolution drives economic development
GE Transportation's partnership with Transnet is enabling the renewal of the operator's locomotive fleet and laying the foundations for a regional export business
Locomotives for all conditions
EMD is focusing on emerging economies in Africa, with new loco fleets now being delivered to railways in Tanzania and the Congo Republic
In focus
Shooting ahead of the clay
Energy efficiency was one of many research themes to be explored at the recent Stephenson Conference in London. Chris Jackson reports
In search of an operator
With planning underway and contractors shortlisted to build the first phase of a proposed national network, Oman Rail is starting the process to find a long-term operating partner
Catenary-free Avenio on test
A combination of onboard energy storage and overhead conductors will power the low-floor cars for Doha's Education City light rail line
Preview
Smile in the city
The International Public Transport Association's World Congress brings the urban rail community together in Milano on June 8-10
Research & skills
'Lighthouse' research projects launched as Shift2Rail initiative takes shape
Forum
People
Dieter
Sidetrack
Diary
Viewpoint
Viewpoint
Risk reduction and confidential reporting programmes work best when the legal framework encourages co-operation and facilitates an 'all-in' approach, where management, employees and unions are all committed to success, believes Kevin Sheys
Railway Gazette International is the leading business journal for railway operators and suppliers, read in 140 countries. Subscribe today.