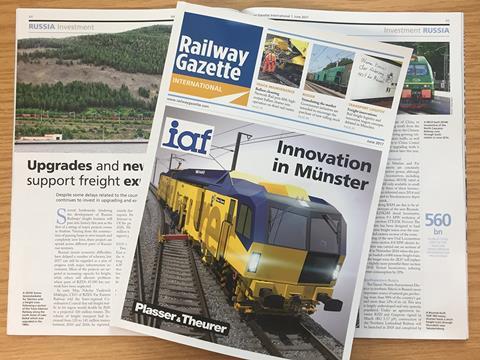 Feature articles in the latest issue of Railway Gazette International, the leading business journal for railway operators and suppliers, read in 140 countries. Subscribe to Railway Gazette International today.
Comment
The changing face of freight
News
Main Line
Urban Rail
Market
Industry
Innovations
Pointers
Exhibition Report
Rail meets logistics at Transport Logistic trade show in München
Analysis
Examining Europe's railway noise problem, pressure mounts to remodel New York Penn station, Sino-Thai rail projects creep forward
Track maintenance
BCS5 joins the high output programme
Introduction of a seventh 'factory train' has completed the expansion of Network Rail's high-output track renewals fleet, which is now responsible for the bulk of its track relaying and ballast cleaning work
In search of smart performance
Plasser & Theurer is developing its track machine range to enhance productivity and reduce environmental impact
Making tracks to Münster
More than 200 companies will be participating in the 27th IAF exhibition in Münster on May 30 to June 1
Integration across disciplines
Vossloh will be displaying a range of infrastructure products and services at IAF 2017
Russia & Central Asia
Upgrades and new lines support freight expansion plans
Despite some delays related to the country's economic situation, Russian Railways continues to invest in upgrading and expansion projects, reports Toma Bacic
Sustaining a domestic industry
The Russian government has introduced a stimulus programme aimed at supporting its rolling stock supply industry through tough economic conditions
Kars – Tbilisi link nears completion
After many delays, the Kars – Tbilisi railway is on the point of completion, facilitating connections between Turkey and Central Asia
Depots & workshops
Rethinking depot design
DB Engineering & Consulting assesses the evolution of rolling stock maintenance depots
In focus
Making the most of the tourist market
With a new concession for long-distance passenger services due to start at the end of this year, Swiss Federal Railways is keen to build up business
Automation takes centre stage in metro upgrade programme
CBTC is to be installed on Lyon metro Line D while Line B will be converted from manual to driverless operation
Concept trains seek customers
Rolling stock suppliers showcase new products for the UK at Railtex show
Cruise trains set sail
Two more of Japan's national railway operators are launching luxury cruise trains
Research & skills
University launches rolling stock course in Poland, MTR Corp to support light rail in Jakarta
Forum
People
Dieter
Sidetrack
Diary
Viewpoint
Ralf Jahncke, President & CEO of consultancy TransCare, says the rail freight sector must embrace a radical change in its approach to technology if it is to grow modal share
Railway Gazette International is the leading business journal for railway operators and suppliers, read in 140 countries. Subscribe today.