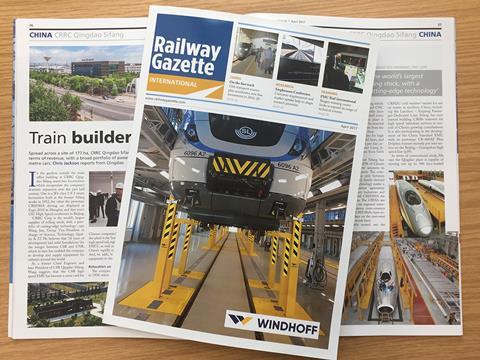 Feature articles in the latest issue of Railway Gazette International, the leading business journal for railway operators and suppliers, read in 140 countries. Subscribe to Railway Gazette International today.
Comment
News
Main Line
Urban Rail
Market
Industry
Innovations
Pointers
Analysis
Concerns over Turkish rail freight prospects, Caltrain electrification under threat, National Express backs European market over UK franchises
China
Firmly on the fast track
No less than 3·5tr yuan is to be spent on new line and upgrading projects by 2020 under China's 13th transport master plan announced on March 1
An Olympic challenge
Construction work is in full swing on a regional high speed line northwest of Beijing, which must tunnel through a geologically complex region and under the Great Wall to serve the venues for the 2022 Winter Olympic Games
Train builder to the world
Spread across a site of 177 ha, CRRC Qingdao Sifang is China's largest rolling stock manufacturer in terms of revenue. Chris Jackson tours its factory
Forging by the Yangtze
Masteel is developing a new plant in Ma'anshan to assemble wheelsets for locomotives and high speed trains
Research
Giving impetus to invention
Many aspects of railway research and development, from safety and digitisation to customer service, will be debated at the second Stephenson Conference, being hosted by the Institution of Mechanical Engineers in London on April 25 – 27
Looking to a bright future
The conditions are right for a new chapter in British railway research to enrich both the railway industry and the academic community, believes Prof Anson Jack
Transalley takes shape
The rail 'competitiveness cluster' in northern France is developing a dedicated transport innovation campus to attract both industrial and academic partners
Smart-Rail sees signs of success
Now at the halfway point, the EU-backed Smart-Rail lighthouse project is seeking to improve the efficiency of European rail freight by enhancing information sharing and collaboration within and beyond the rail industry
Hacking the rails in Hong Kong
Asia's first digital technology 'hackathon' in Hong Kong involved MTR Corp, Hack Partners and 40 developer teams
Training
PMC Rail goes it alone
The former Deutsche Plasser training centre in Bingen has become a stand-alone railway training institution, offering a range of customised courses in railway technology that go beyond its roots in infrastructure maintenance
Lookouts learn their lesson
In what it believes is a first for Europe, Belgian infrastructure manager Infrabel has inaugurated a 3D simulator for the training of on-track safety staff
Research & skills
Forum
People
Dieter
Sidetrack
Diary
Viewpoint
Rail Supply Industry Watch
We ask our panel for their views on the changing relationship between the large system integrators and their principal sub-suppliers amid ongoing industry consolidation
Railway Gazette International is the leading business journal for railway operators and suppliers, read in 140 countries. Subscribe to Railway Gazette International today.