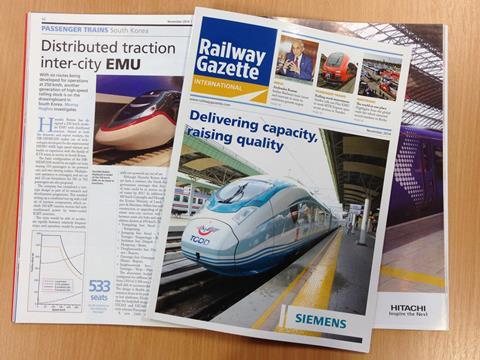 Comment
InnoTrans: value the chance conversation
News
Main Line
Urban Rail
Market
Industry
Innovations
Pointers
Analysis
SNCF President Guillaume Pepy sets out his strategy
Late change in nomination for EU Transport Commissioner
Growing safely in the USA
Restructuring Polish regional rail
Košice race hots up
An intelligent network in Southeast Asia
India
Investment initiatives will speed Indian Railways transformation
Faced with a raft of schemes for capacity expansion, network upgrading and new line construction, Indian Railways is looking to harness foreign investment and private finance through a range of initiatives, explains IR Board Chairman Arunendra Kumar
Indian Railways faces ambitious growth targets
By 2032, India's railways should be handling 50% of all freight-tonne km, according to the government's transport development plans. IR needs to adopt a more commercial focus as well as investing in capacity if the modal shift objectives are to be met
Speed-up beckons in a burgeoning market
The acceleration of inter-city services on existing routes is a first step towards the construction of high speed lines
Augmenting capacity and boosting productivity
Having slipped behind railways in other countries in the use of advanced technology, Indian Railways is now harnessing a range of initiatives to cope with rising traffic, reduce costs and improve the quality of service, reports Raghu Dayal
Autotransformer feeding on the Dedicated Freight Corridors
The two freight railways now under construction will be electrified using 2 x 25 kV, to power the high-horsepower electric locos hauling double-stack container and heavy coal trains
Passenger trains
Flirt in a cold climate
Stadler rolled out the first Flirt inter-city trainset for Swedish open access operator MTR Express in Bussnang on October 17
A new face at Thameslink
The first of 115 Desiro City electric multiple-units being supplied by Siemens for the Thameslink route in London are currently undergoing test running at Wildenrath. Expected to arrive in the UK in summer 2015, the trains will begin entering revenue service on the Bedford – Brighton corridor from early 2016
Distributed traction inter-city EMU
With six routes being developed for operation at 250 km/h, another generation of high-speed rolling stock is on the drawingboard in South Korea
SJ embraces remote bearing monitoring
Sweden's national operator is deploying Perpetuum's novel vibration harvesting technology to improve wheelset reliability on its SJ2000 inter-city fleet, which is now being refurbished.
InnoTrans review
The world in one place
The global rail industry gathered in Berlin on September 23-26 as record numbers attended the 10th InnoTrans trade show
Research & skills
UK high speed skills college locations announced
Forum
People
Dieter
Sidetrack
Diary
Viewpoint
RZD President Vladimir Yakunin outlines how Russian Railways is responding to a turbulent economic and political climate
Railway Gazette International is the leading business journal for railway operators and suppliers, read in 140 countries. Subscribe to Railway Gazette International today.