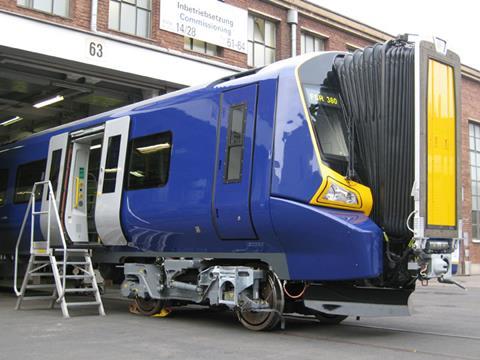 UK: Siemens Mobility's Krefeld-Uerdingen plant in Germany has begun testing the first vehicle from the fleet of 22 three-car and 16 four-car Desiro electric multiple-units being built for ScotRail.
Developed from the Desiro UK family, Class 380 has lightweight aluminium bodyshells with a bolt-on steel structure at the front end to meet EN15227 crashworthiness requirements. The patented extendable gangway developed with Hübner is a prominent feature of the design.
The air-conditioned 25 kV 50 Hz EMUs will have 2+2 seating throughout. One car will have two wheelchair spaces, and they will be the first trains in the UK to be fully compliant with the Persons with Reduced Mobility Technical Specification for Interoperability. A fully-electronic train management system is fitted.
Commissioning of the first complete trainset will begin at the Wildenrath test centre in February. The first delivery is scheduled for September 3 2010, just over 25 months after the £250m contract financed by HSBC was signed on July 28 2008.