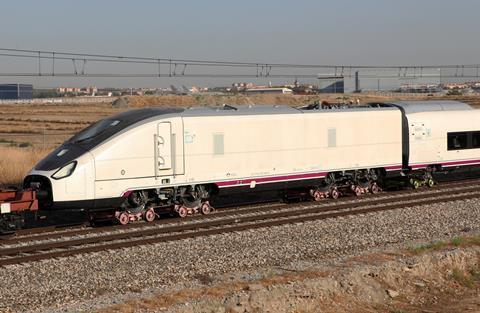 SPAIN: The first series-produced Avril high speed trainset ordered by RENFE left Talgo's Rivabellosa factory overnight on July 23-24 to be moved to La Sagra depot north of Toledo for testing on the high speed network. The train was hauled through the suburbs of Madrid with its 1 435 mm gauge bogies mounted on 1 668 mm gauge wheel skates.
Test running on the Madrid – Sevilla line is expected to begin imminently, marking a major milestone in the development of the Avril high speed design which Talgo has been developing for more than a decade. The national operator placed firm orders for 15 Avril trainsets, designated S106, in November 2016 and then ordered another 15 in June 2017. In total, these contracts are worth €1∙3bn, of which €252m covers 30 years of maintenance by a joint venture of RENFE and Talgo.
The initial batch of 15 are being fitted with 1 435 mm gauge bogies, while the second tranche will have gauge-changing wheelsets allowing them also to run on and off the broad-gauge conventional network. They will be equipped to operate under three electrification systems.
The 330 km/h Avril (Alta Velocidad Rueda Independienta Ligero) design is intended to deliver substantially greater seating capacity, a lower cost of operation and higher commercial speeds than previous high speed train designs. Reflecting Avril's long gestation period, Talgo took a power car and two trailers from a prototype train to the InnoTrans trade fair in Berlin in September 2012.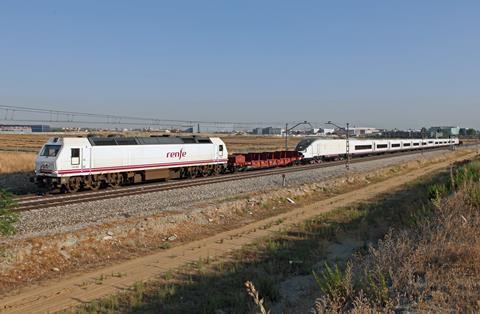 The 2016 contract for the series build stipulated that each 200 m long trainset would have 416 standard and 105 business class seats arranged 2+2 and 3+2, adjustable to face the direction of travel.
RENFE hopes that the lower operating costs promised by the Avril design will help it to retain share in the Spanish inter-city market as it opens up to competition. By 2022, no fewer than three operators are expected to be competing on the high speed network, including subsidiaries of SNCF and Trenitalia.