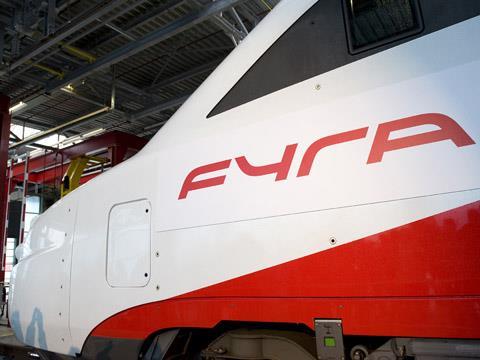 NETHERLANDS: A further year's delay to the launch of high speed domestic services on HSL-Zuid has been confirmed by Transport Minister Camiel Eurlings, who has admitted to the Dutch parliament that there is no prospect of the AnsaldoBreda V250 trainsets entering revenue service before the December 2011 timetable change at the earliest.
This is four years later than envisaged when the high speed operating concession was awarded to the NS-KLM High Speed Alliance.
At present four V250 sets are undergoing tests in the Netherlands as part of the approval and certification process. At least six sets would be needed before NS Hispeed and SNCB could launch the planned hourly Fyra cross-border service between Amsterdam, Rotterdam and Brussels, so the partners have agreed to continue the present loco-hauled Benelux operation for a further year.
NS and SNCB have ordered 19 V250 trainsets in total, of which the Belgians are funding three. They are intended to work domestic high speed services from Amsterdam to Den Haag and Breda as well as the cross-border route. Eurlings reports that SNCB is in negotiation with the supplier for a fourth set to cover its share of the proposed Brussels - Antwerpen - Breda - Den Haag service. This would start in 2013, offering a journey time of 1 h 45 min including stops at Noorderkempen and Mechelen.
Meanwhile, HSA is hoping to get clearance this summer for its leased Bombardier Traxx MS Class 186 locos, which are working an hourly 'Fyra-light' shuttle between Amsterdam and Rotterdam, to operate on ETCS Level 2. This would allow the northern section of HSL-Zuid to be switched from Level 1 to Level 2 control, paving the way for Thalys services to be accelerated from 160 to 300 km/h on this section, either in October or from the December timetable change. HSA would also be able to step up the shuttle service to half-hourly from the same time, and extend it beyond Rotterdam to Breda, using the southern part of HSL-Zuid which already operates under Level 2.