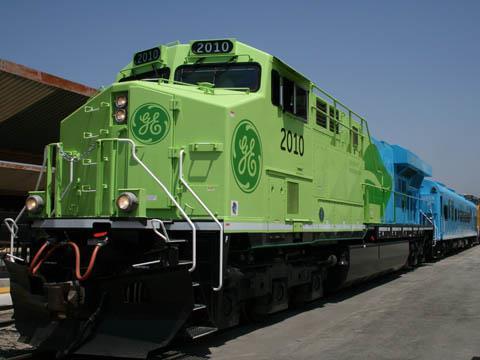 USA: GE Transportation has announced plans for a $100m plant to produce batteries for hybrid locomotives and heavy-load applications in the marine, mining, telecoms and utilities sectors. Production is planned to start by mid-2011, with the capacity to produce 10 million cells a year, equivalent to 900 MWh, or 1 000 hybrid locomotives.
GE has invested more than $150m developing battery technologies, including a high energy density sodium-based battery. The first application will be the Evolution Hybrid locomotive, which uses batteries to recover braking energy. A demonstrator was unveiled in May 2007, and commercial production is planned for 2010.
The state of New York has agreed to provide $15m of incentives for the plant, which would be close to GE Global Research's facility in Niskayuna. GE is also applying for federal stimulus funds from the Department of Energy, which would allow the project to be accelerated.
'This type of public-private partnership is essential to rebuild America's manufacturing base, create new jobs and to accelerate the pace at which new technology comes to market,' said Jeff Immelt, Chairman & CEO of GE. 'We believe the advanced battery business could be a $1bn business over the next decade.'
'Hybrid locomotives, and the battery technology on board, could be an important part of how we ship goods by rail in the future', said Matthew K Rose, Chairman, President & CEO of Burlington Northern Santa Fe Corp. 'The ability to produce a battery pack designed for rail applications is a significant milestone to producing a commercially available hybrid locomotive that will further enhance rail's reputation as the most environmentally sound mode for moving freight in America.'