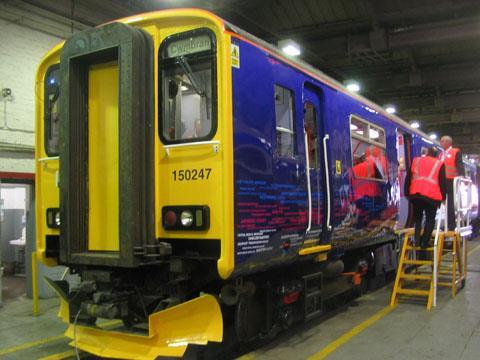 UK: Diesel multiple-units operated by First Great Western on west of England regional services are undergoing an £11m refurbishment to bring them up to modern standards of reliability and appearance.
During November the operator returned to service the first of 17 Class 150 two-car DMUs to be modernised by Cardiff-based Pullman Group.
The modernisation is intended to see the Porterbrook-owned units dating from the mid-1980s through to the end of the current Great Western franchise in 2016, and includes re-liverying into FirstGroup's lilac and blue house colours, and the application of promotional external vinyls decorated with the names of destinations accessible by rail.
The interiors have been redesigned by Michael Rodber, who designed the refurbishment of FGW's High Speed Train fleet and previously worked for Eurostar and Porsche. All panelling and luggage racks have been resprayed, or replaced when necessary, and new floor coverings manufactured in Italy by Mondo have been fitted for easy cleaning. The original seat shells remain, but are fitted with grab points and custom-made moquette.
The interior lighting has been redesigned for easier maintenance and an improved ambience, while exterior bulb lamps have been replaced with LED units offering a much longer lifespan. Toilet compartments are being removed and completely replaced.
Invisible to passengers is the work under the floor, which includes a full scheduled overhaul in addition to upgrades focused on improving reliability to push down penalty payments from delay-minutes.
The halon fire suppression equipment has been replaced with a foam system, and reflecting recent safety studies (RG 9.07 p536) all the trains are being fitted with laminated window glass, with the exception of the Class 143 units where the bus-derived construction does not permit thicker glazing.
One Class 150 will be out of service at a time, with the work taking around 20 days for the initial unit and decreasing to around 15 days for subsequent vehicles.
Pullman Group is installing the wiring needed for the provision of CCTV, which will be fitted by Petards company Joyce-Loebl under a £1m contract announced on October 5. As well as covering passenger areas, the eyeTrain digital CCTV includes forward-facing cameras and automatic passenger counting.
FGW refurbishment programme
DMUs
Contractor
Number
Class 143
Pullman Group
8 x two-car
Class 150
Pullman Group
17 x two-car
Class 153
Wabtec
11 x single car
Class 158
Wabtec
21 x two-car
Designer
Michael Rodber
Project
Management TPD Rail
Interior upgrade
£4m
CCTV
£1m
Total value
£11m
Pullman Group
Founded 15 years ago, Pullman Group now owns an extensive site which was formerly the Canton depot of freight operator EWS.
Having expanded from its original bogie refurbishment activities, the company now employs around 130 staff and has a wide range of freight and passenger rolling stock repair and refurbishment capabilities, enhanced last year with the acquisition of wheel shop equipment from the closed Alstom works in Eastleigh. The start of work on complete vehicle refurbishment is driving further growth, with the development of a full paint shop now planned.