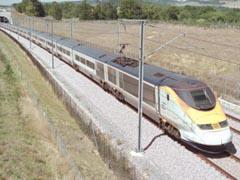 LONDON & Continental Railways, owner of the £5·2bn Channel Tunnel Rail Link and the UK share of Eurostar, is to be separated into three businesses, UK Rail Minister Tom Harris announced on November 20. The recently-completed 109 km high speed line between London at the Channel Tunnel will be sold in 2009.
During the first reading of the Bill to authorise the sale, Harris told Parliament that 'government support will always be needed to fund major rail projects. But given the investment made by taxpayers we now need to get the best possible return.
'In 2006, after speculation about the ownership of LCR, its shareholders decided that they did not want to sell their interest in the company at that point. However, as announced to Parliament in March last year, the Board of LCR and the Secretary of State agreed to undertake a joint programme of work to evaluate potential restructuring options.
'What is planned is a separation of LCR's three different businesses - the infrastructure (including the track and stations), the land interests, and the UK stake in Eurostar. Ultimately, as the Secretary of State said last year, we anticipate that there will be an open, competitive process for any sale to secure best value for the taxpayer. The Bill is the first step towards this.'