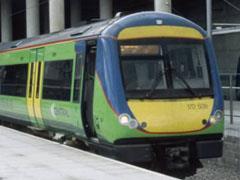 UK: Three batches of Class 172 Turbostar diesel multiple-units being built at Bombardier's Derby plant for train operators London Midland, Chiltern and London Overground are to be equipped with MTU underfloor engines.
MTU's parent group, Togum, announced on November 5 that the Friedrichshafen-based company had won a contract from Bombardier for 'the development and manufacture of more than 93 rail drive systems' for the Class 172 fleet. Following extensive testing Bombardier has opted to use the MTU Powerpack, which meets the EU Stage IIIA emissions limits which come into force in January 2009.The modular drive train includes the Type 6H1800 engine rated at 360 kW plus gearbox, cooling system and filters. Deliveries are due to run from early 2009 to mid-2010.
The Class 172 is a lighter evolution of Bombardier's successful Class 170 Turbostar DMU family, which is powered by the earlier MTU 6R183TD engine. Porterbrook is buying 69 Class 172 cars for London Midland, formed as 12 two-car and 15 three-car sets which will mainly be used on suburban routes around Birmingham. Angel Trains has ordered 12 two-car sets, of which four will augment the Chiltern Railways fleet, and eight will be leased to London Overground for the Gospel Oak – Barking route in north London.
'This order demonstrates quite clearly that we do not just build engines, but we are a competent provider of complete and tailored systems', commented Tognum's Board Member for Engines Rainer Breidenbach. Over the past two years MTU has delivered around 650 Powerpacks complying with Stage IIIA regulations to vehicle manufacturers in Europe and Asia.