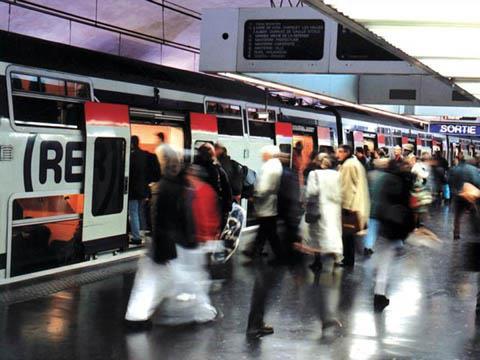 FRANCE: The proposed extension of Paris RER Line E into the western suburbs is back on the cards, after Ile-de-France transport authority STIF decided to revive the project. RFF has commissioned Systra to undertake technical studies for a route serving La Défense and Mantes-la-Jolie.
When the EOLE (Est-Ouest Liaison Express) project was launched in the 1980s, the intention was to connect up SNCF's suburban services from the termini at Paris Est and Saint-Lazare. The first stage of Line E was completed in July 1999, when Est suburban services were diverted through a 1·7 km tunnel to a temporary terminus at Haussmann Saint-Lazare.
And there things remained. No work was started on the second phase, which was originally expected to open in 2006. This would have joined the Saint-Lazare suburban network at Batignolles, just beyond Pont Cardinet. From here services were intended to run to Versailles on the north-south line through La Défense.
The original route has now been dropped in favour of a direct tunnel from Haussmann to La Défense via Porte Maillot, paralleling Line A. The pioneering RER line (p62) is now handling more than 1 million passengers/day, with flows of 55 000 passengers/h at peak times leading to severe overcrowding. With further office developments planned around La Défense over the next few years, STIF is concerned that Line A simply will not be able to cope.
West of La Défense, Line E services are envisaged as taking over the Line A branch from Nanterre to Sartrouville and Poissy, continuing over an upgraded SNCF route along the Seine valley to Mantes-la-Jolie. La Défense – Mantes would have eight trains/h, with a 35 min journey time. Line A would continue to serve Cergy-Pontoise and St-Germain-en-Laye, but having two branches instead of three would allow higher frequencies to both destinations.
With Systra expected to complete its work this year, STIF plans to launch public consultation in 2010. Construction would begin in 2012, with the Line E extension opening around 2018.
Francilien EMU launched at Crespin
On February 6 Bombardier Transportation officially unveiled the Francilien wide-bodied EMUs being built for Paris suburban services under a €1·85bn contract awarded by STIF and SNCF in November 2006 (RG 8.08 p492).
The seven-car set on display was actually the third of six pre-series units, as the first two have already been dispatched to Wildenrath for trials. The remaining sets are due to be tested at Petite-Forêt and Velim before the first two units are handed over to SNCF in October. Two more will follow in December and two in January 2010.
With full safety certification expected by November, the first four units are expected to enter service with the December 2009 timetable change, working peak-hour services on Line H between Paris Nord and Luzarches.
The production timescale for the remaining sets has been accelerated, with all 172 units now expected to be in traffic by April 2015, eight months ahead of the original schedule. Replacing older trains up to two years earlier than planned is expected to save €23m in operating and maintenance costs.