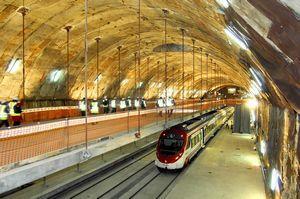 SPAIN: Suburban services began using the 8·5 km Atocha - Chamartín tunnel under the centre of Madrid on July 9. Testing of the new route, which has cost €550m to build, had begun on May 23.
The route has two intermediate stations, of which Nuevos Ministerios is due to open this month. The second at Puerta del Sol in the heart of Madrid is expected to open in 2009 once the interchange with three metro lines is completed.
Currently terminating at Atocha, RENFE suburban routes from Aranjuez (C3) and Parla (C4) will run through the new tunnel. As well as relieving the existing cross-city rail and metro lines, the new route is expected to reduce congestion at Atocha. At present, 45% of the 500 000 suburban passengers using this station each day are changing between routes, while 25% transfer to metro Line 1 to reach the city centre.
Madrid's third rail tunnel between Atocha and Charmartín is also moving forward, with ADIF now authorised to start tendering for a 7·3 km standard-gauge route for high speed services, of which 6·9 km will be in tunnel. Work is expected to take 32 months to complete within a budget of €285·6m, of which 80% is being provided by the EU Cohesion Fund.
CAPTION: The platforms at Puerta del Sol lie within caverns 207 m long, 20·36 m wide and 14·45 m high.