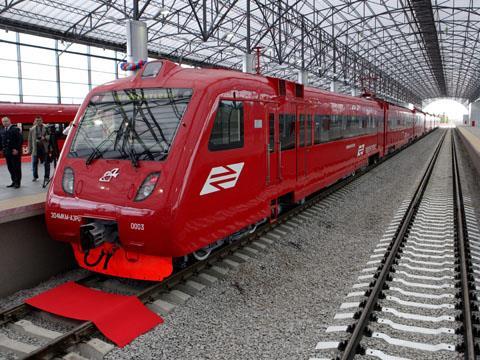 RUSSIA: Business class seating will be introduced on the shuttle trains to Moscow Sheremetyevo Airport this month, under an improvement programme which has seen traffic at airport rail link operator Aeroexpress grow by 4% to 6·8 million passenger-journeys over the past year, despite a 6% drop in airport passengers and a general fall in suburban rail use. The RZD subsidiary increased its share of traffic to Moscow's three main airports from 15% to 17% in 2009.
'We are introducing the business service to meet the potential demand from Russian and foreign business passengers', said Commercial Director Michail Kowalski. 'According to market research data, around 20% of Aeroexpress passengers are top managers or business owners preferring advanced service levels.' Fares for the 24-seat business class coach will include free soft drinks, newspapers and magazines. Passengers will also enjoy dedicated staff and wider seat spacing.
Aeroexpress operates shuttle services from central Moscow to Sheremetyevo, Vnukovo and Domodedovo airports, and also suburban services to Lobnya. It plans to refurbish its rolling stock to increase capacity in 2010-11, and in partnership with Yota is currently rolling out onboard wi-fi.
Last year Type ED4MKM EMUs were introduced on the Domodedovo route, and the Sheremetyevo service was extended to Belorussky station, more convenient for the centre of Moscow. Other efforts to attract passengers include through ticketing with the Moscow metro, and return tickets for non-flyers meeting air passengers.