With trials of Bangkok's Airport Rail Link continuing on a daily basis, Railway Gazette International's Urban Editor Jane Pearce took a ride on an Airport Express train to Suvarnabhumi Airport on October 22.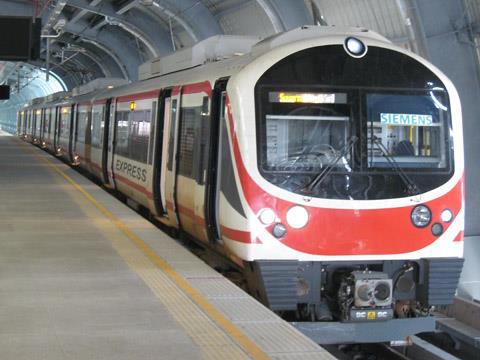 THAILAND: Bangkok's Suvarnabhumi Airport Rail Link project has experienced extensive delays, but November 4 has now been set as the date when the turnkey consortium will hand the link over to their client, State Railway of Thailand. This will be followed by a period of operational training and trial running, supported by DB International.
The ARL is due to be officially inaugurated by King Bhumibol Adulyadej on December 5 to mark his 82nd birthday. However revenue service is unlikely to start before late spring 2010.
The line will have two services, Express and City Line.
Express trains will run non-stop to Suvarnabhumi Airport from Makkasan station, which has an interchange with the metro Blue Line and is equipped with baggage-handling facilities. The trip will take around 15 min at a maximum speed of 160 km/h.
It will be operated using four four-car electric multiple-units based on Siemens' Desiro UK design modified to suit local conditions. The three passenger cars can accommodate a total of 170 passengers and are fitted with luggage racks and toilets. The fourth car will transport containers of checked-in luggage.
City Line services will take 27 min to run the 28·8 km between Phaya Thai, situated close to the BTS Silom Line station, and the Airport, with six intermediate stops including Makkasan. The five three-car Desiro EMUs for City Line services are fitted with longitudinal benches, similar to metro and SkyTrain seating, to carry a maximum of 745 passengers.
The 210 m platforms at the stations are designed for future expansion to 10-car trains.
Read the full story of Bangkok's Airport Rail Link and mass transit expansion plans in the December issue of Metro Report International