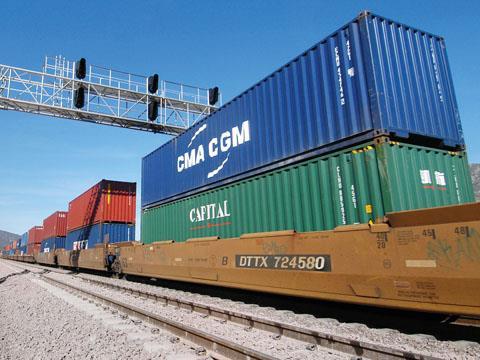 A final rule on electronically controlled pneumatic brakes was issued by the Federal Railroad Administration on October 15, allowing US railways to begin installing a standardised system. FRA requires ECP brake systems to comply with existing industry standards, and certain operating rules and training programmes should be modified to enable staff to use the systems. While railways are not required to adopt ECP, FRA Administrator Joseph H Boardman said he believes they will do so voluntarily for economic self-interest.
On November 14 French minister for foreign trade Anne-Marie Idrac signed a €625m loan agreement with Morocco to part-fund the planned €2bn Casablanca - Tanger high speed line, for which Alstom will supply 18 double-deck TGV Duplex trainsets under a October 2007 agreement (RG 11.07 p673).
Estonia will accede to the Cotif convention establishing a uniform system of laws governing international rail freight and passenger transport on January 1 2009. It is the last of the 25 EU states with railways to join, as its traffic is dominated by flows with Russia rather than other signatories.
On October 29 Iraqi Republic Railways launched a commuter service linking Yousifiyah and Kazimiyah with Baghdad Central station. 'The train is faster than cars, it avoids stopping in traffic jams and dozens of checkpoints that people are obliged to pass through', said a Ministry of Transport official.
The prime ministers of India and Japan have agreed a ¥450bn Japanese official development assistance loan towards the Vadodara - Rewari first phase of the Western Dedicated Freight Corridor.
On October 19 the first train in 25 years reached Marromeu on the lower Zambezi River in Mozambique, at the end of an 80 km branch off the Sena line from Beira, destroyed in the civil war and currently being rebuilt by Rites and Ircon. Rehabilitation of the Sena line to Moatize is due for completion by mid-2009.
Canadian Pacific has cut its 2009 capital investment programme to around C$820m, down C$200m on the combined figures for CP and DM&E in 2008. 'We are pacing our capital investments to match the needs of our customers', explained Chief Financial Officer Kathryn McQuade.
Asian Development Bank is providing a technical assistance grant of US$800 000 to prepare an energy efficiency strategy for the Chinese Railways.