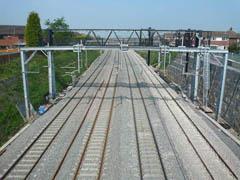 Getzner Werkstoffe is to supply 390 000 sleeper base pads to reduce vibration from passing trains in the Gotthard base tunnel. The polyurethane pads are being designed to withstand particularly heavy loads, as the tunnel will carry large volumes of north-south transit freight.
The Geomet anti-corrosion coating developed by Dacral is to be supplied to Eurotunnel to protect rail fastenings in the Channel Tunnel. The Grade B Geomet 500 product is a self-lubricating, non-electrolytic coating that can withstand a 1000 h salt spray test.
The Volute piling technology developed by Collis Civil Engineering saw its first commercial use on December 13 to install a signal post near Peterborough in the UK. The Volute Pile technique is designed to minimise soil displacement, with design loadings based on bearing plate capacity in undisturbed soil. The technique also allows for more rapid installation of lineside structures.