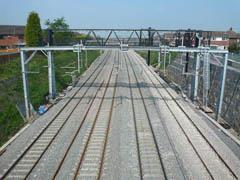 The Israeli government has approved the US$7·2bn first phase of the 'Israel Ways' transport investment package. US$4·7bn is allocated to rail development over 10 years, including electrification of lines from Tel Aviv, construction of a 23 km line 'Akko - Karmi'el line and revival of the Hedjaz Railway route between Haifa, Afula and Beit-Shean.
Norwegian Transport & Communications Minister Magnhild Meltveit Kleppa has commissioned Jernbaneverket to produce a report into the market potential, financial viability, environmental impact and safety benefits of six high speed lines by February 2012. Five radiate from Oslo to Kristiansand/Stavanger, Bergen, Trondheim, Stockholm and Göteborg, and a coastal route from Bergen to Haugesund and Stavanger.
The European Commission's Directorate-General for Energy & Transport has been split into a separate Directorate-General for Energy and Directorate-General for Mobility & Transport.
In co-operation with the Ministry of Hotels & Tourism, Myanma Railways is to launch a Yangon - Bagan service with air-conditioned sleeping and restaurant cars aimed at the tourist market.
The EBRD has announced a €100m loan towards Georgian Railway's project to build a 10 km railway bypass around Tbilisi, freeing 70 ha of central land for redevelopment. Funding will also come from EIB and the EU.
This month Russia's Shcherbinka research centre will complete tests to assess whether Talgo automatic gauge-changing technology could be used to speed up passenger services from Moscow to Warszawa, Berlin and Praha by eliminating the need to swap bogies between 1520 mm and standard gauge. Talgo cars will also undergo running trials on the routes from Moscow to St Petersburg and Brest.
Oberelbe transport authority VVO has retained DB Regio as operator of the S-Bahn services in Dresden under a contract running to 2027.
In May Sri Lanka Railways will take delivery of 20 DMUs from India for Colombo - Matara services, SLR's first use of multiple-units on long-distance services. Container trains have also been revived, carrying military equipment from Colombo to Thandikulam.
DB is to spend €1·9bn on infrastructure in Bremen and Niedersachsen by 2013, with the biggest project being upgrading the Oldenburg - Wilhelmshaven route. €100m will be spent on station modernisation.