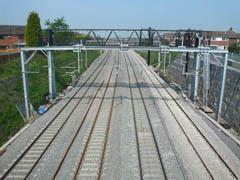 Seven years and five months after Great Britain's privatised infrastructure manager was placed into liquidation, Railtrack Group's final general meeting was held in London on March 15. A final payment will be made to shareholders 'in the region of 2p per share'. To date, the joint liquidators have made four payments totalling 2605 p/share.
Metronom has been confirmed as the winner of an eight-year contract to operate Hanse-Netz services between Bremen, Hamburg and Uelzen from December, after DB dropped its challenge to the decision by the Länder of Niedersachsen, Hamburg and Bremen.
In an effort to reduce queuing and curb touting, Bangladesh Railway is to roll out mobile phone booking for inter-city services. Passengers will receive an SMS confirmation message which can be exchanged for a paper ticket up to one hour before departure.
Rail Cargo Austria has rebranded MÁV Cargo as Rail Cargo Hungaria. The Austrian Federal Railways company bought the freight business of the Hungarian state railway in 2008 (RG 1.09 p7).
DB Netz has called tenders for to extend electrification on the Dresden – Nürnberg route by a further 12·3 km from Reichenbach to Herlasgrün, across the Göltzschtal viaduct. The track will be upgraded for 120 km/h running, 160 km/h with tilt.
China's National Development & Reform Commission has approved the construction of a 69bn yuan Passenger-Dedicated Line between Xi'an and Chengdu by 2014.
Danish infrastructure manager Banedanmark is to replace 14 signalling centres with just two located at København and Fredericia by 2018.
UK infrastructure manager Network Rail and Arriva Trains Wales carried out trials with Class 158 DMUs operating under ETCS Level 2 on February 12-17. ETCS is now installed on 215 track-km of the Shrewsbury – Pwllheli route, and the first phase could go live as soon as May.
Last month China Rail Group began construction of a 370 km railway from Hami to Lop Nur, the 'Sea of Death' dried up lake in Xinjiang which contains large potassium deposits. Work is expected to take two years at a cost of 3·28bn yuan.
A buyer is being sought for the Alice Springs – Darwin line by KordaMentha, which was appointed receiver of owner and operator FreightLink in 2008.